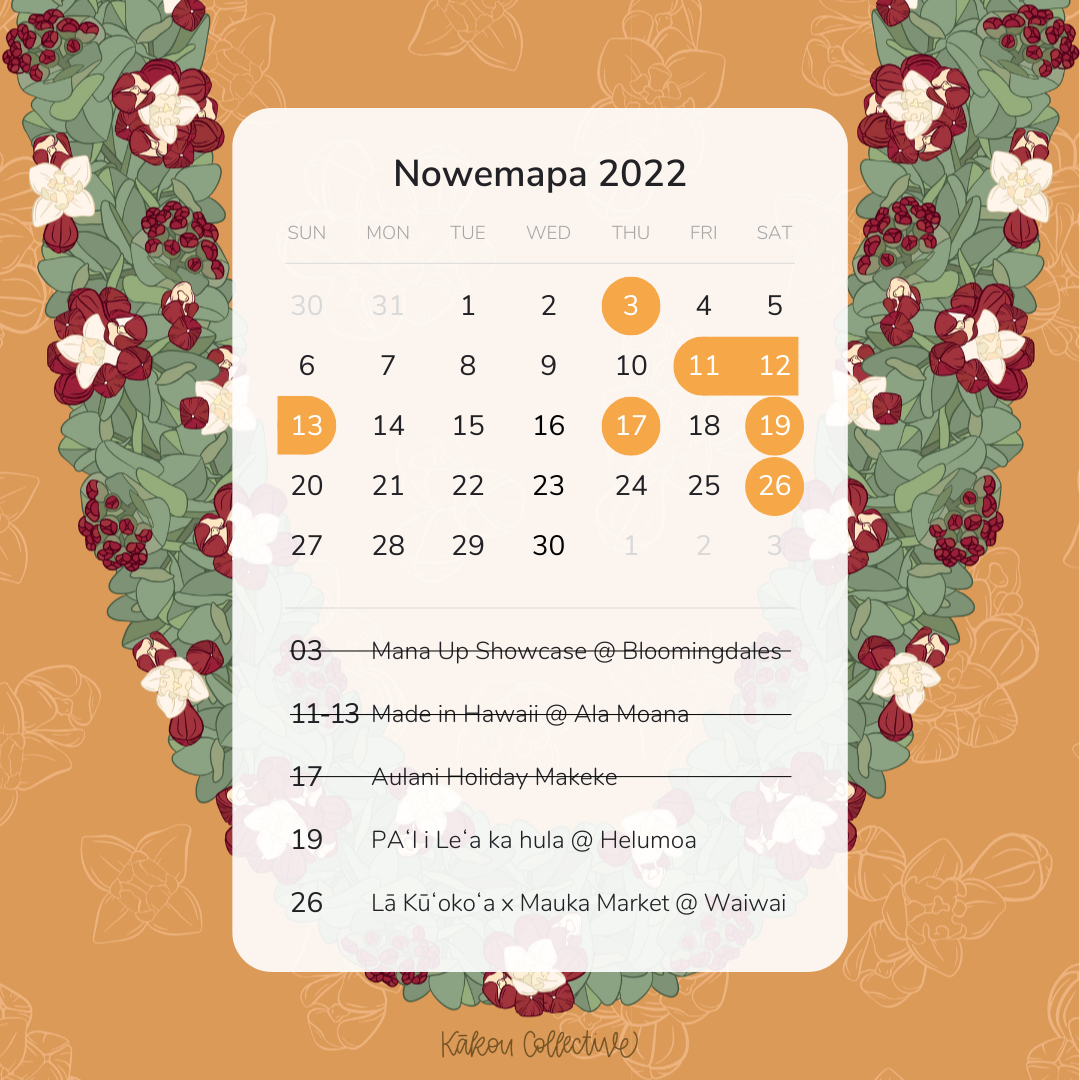 November 2022 Holiday Schedule
*UPDATED NOV. 18 2022*
This schedule of events will be updated as we obtain new information and resources on each event. Follow us on Instagram for behind the scenes and sneak peeks. The following is our 2022 November schedule. Please click here for Decembers schedule.
Nowemapa 2022 Holiday Schedule (November)
Thursday, Nov. 03 | Mana Up Showcase
@ Bloomingdales Ala Moana
This event is a celebration of the 7th cohort of Mana Ups business accelerator. We were proud members of the 6th cohort and look forward to a night of shopping and celebration. At this event, we will be showcasing shop favorites.
More about Mana Up Showcase
Friday, Nov 11 - Sunday, Nov. 13 | Made in Hawaii 
@ Ala Moana Shopping Center - 4th Floor Parking Lot

Made in Hawaii is one of the biggest in-person events of our calendar year. We are so humbled and grateful to DBEDT and INPEACE for sponsoring our booths. At this event, we plan to bring our entire online shop to life. We will also be launching an entire new line of stationery, as well as bringing all of the engraved products in our studio weʻve been working on. Limited edition totes will be available for purchase and gift with purchase.
Products launched at Made in Hawaii
Event Details for Made in Hawaii 2022
Kakou Collective Made in Hawaii Feature on KHON 2 News
Thursday, Nov 17 | Aulani Holiday Farmers Market 
@ Aulani

This event is for the cast of Aulani Resort. At this event, we will be featuring shop favorites, perfect for gift giving and stocking stuffers.
Aulani Resort Event Recap
Saturday, Nov 19 | PAʻI i Leʻa ka Hula 
@ Helumoa - Royal Hawaiian Center
We love doing events with the PAʻI Foundation, especially when they are at Helumoa. Join us in the royal grove as we claim space in Waikiki, sharing our story and offer made in Hawaii options for holiday season. At this event, we will be featuring our new Ilima collection, and launching our newest color way in our 100% Cotton Tea Towels with Valia Honolulu. We will have a limited amount of lifestyle items.
Event details for PAʻI Leʻa ka Hula
Saturday, Nov 26 | Lā Kūʻokoʻa x Mauka Market 
@ Waiwai Collective, Mōʻiliʻili
Small business Saturday is an initiative started to encourage shopping during the busiest periods of the year - specifically the Saturday after Thanksgiving. Small businesses are often the cornerstones of our community, are often advocates of important causes, and positively impact the economic health of their communities. When we support small businesses, we breathe life into our communities. This small business saturday, we celebrate Lā Kūʻokoʻa, Hawaiian Independance Day at Waiwai Collective, a cornerstone of Mōʻiliʻili.
At this event, we will be launching limited edition items that will be made in limited quantities. 
Event details for Lā Kūʻokoʻa by Mauka Market at Waiwai Collective