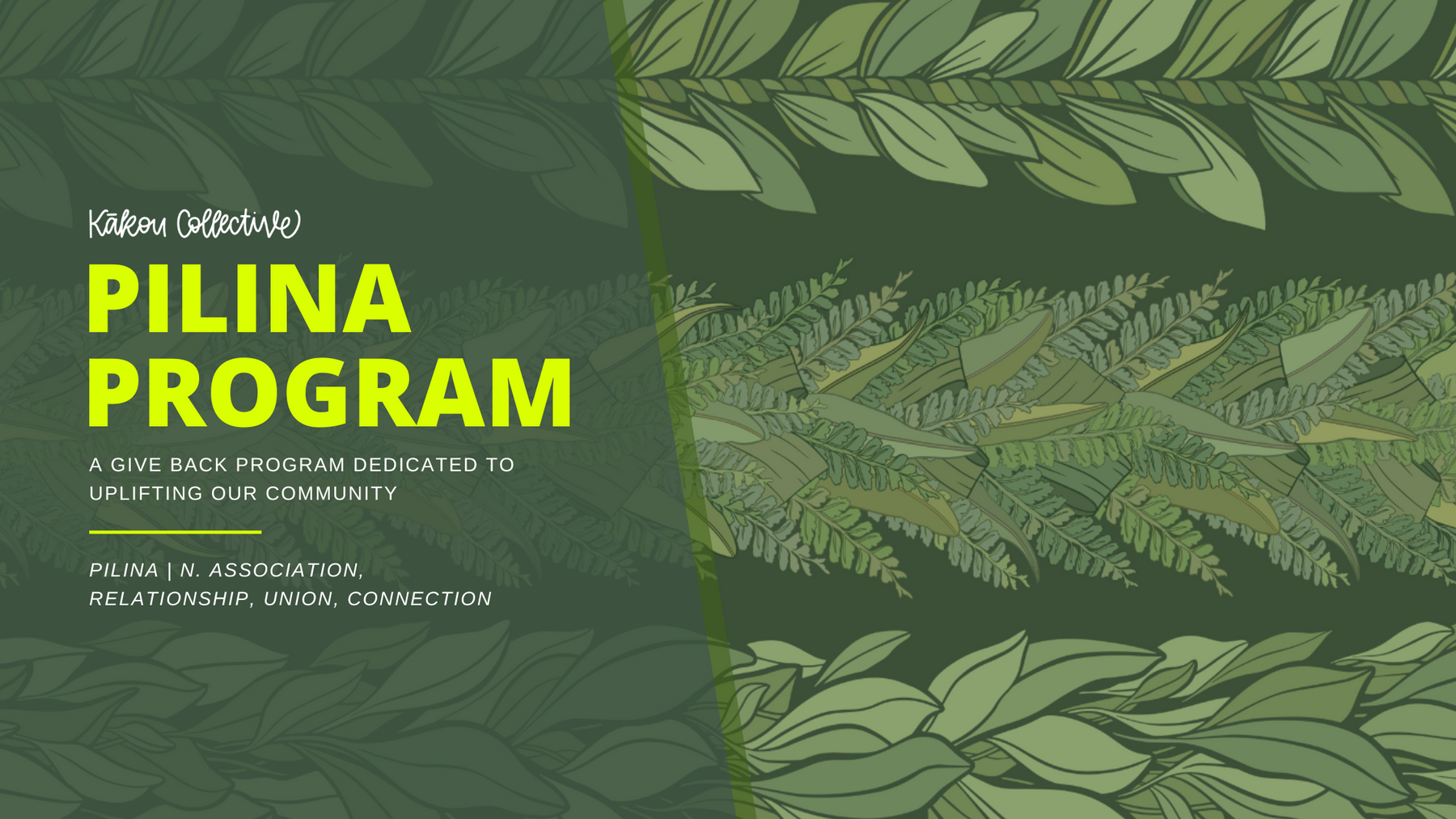 Kakou Collective Giving Back
Kakou Collective started in the pages of my personal planner with doodles and custom hand lettered fonts. Throughout my journey of planning, I have witnessed and experienced the importance of mental/physical wellness and incorporating habits with cultural significance. Kakou Collective has evolved into so much more than I couldʻve ever imagined, and it has transformed into a vehicle in which we can connect with and support our local community and ʻāina (land).
As Kakou Collective has evolved, it was important for me to weave a give back program into the heart beat of this business. In 2020, we started off donating where we could and when we could. In 2021, we started to create collections with the purpose of donating to local organizations. We are proud to announce that in 2023, we pledge to give 1% of our profit each quarter to local organizations and communities that help Hawaiʻi thrive.
As a company inspired by Hawaiʻi, we will be focusing our giving to organizations within Hawaiʻi that benefit the beautiful flora, fauna, and local culture (especially its native people, native species, and language). Read more about our mission here.
2023 Recipients
Ohia Love Seed Storage Project [UH Foundation Fund # 127-3540-4]
Merrie Monarch 2023 - Special Collection for Waikoloa Dry Forest Initiative
Na Wahine Toa
PAʻI Foundation
2022 Recipients
INPEACE - The Institute for Native Pacific Education and Culture
Aha Punanaleo
Maʻi Movement
2021 Recipients
Aha Pūnana Leo
Ohia Love Seed Storage Project [UH Foundation Fund # 127-3540-4]
Sustainable Coastlines Hawaii
Hawaiʻi Food Bank
Maʻi Movement
ʻŌhiʻa Love Project
Project Kanu/The Ulu Coop
The PAʻI Foundation
2020 Recipients
Aha Pūnana Leo
Hawaiʻi Food Bank
Protect and Preserve Hawaiʻi
The Friends of ʻIolani Palace