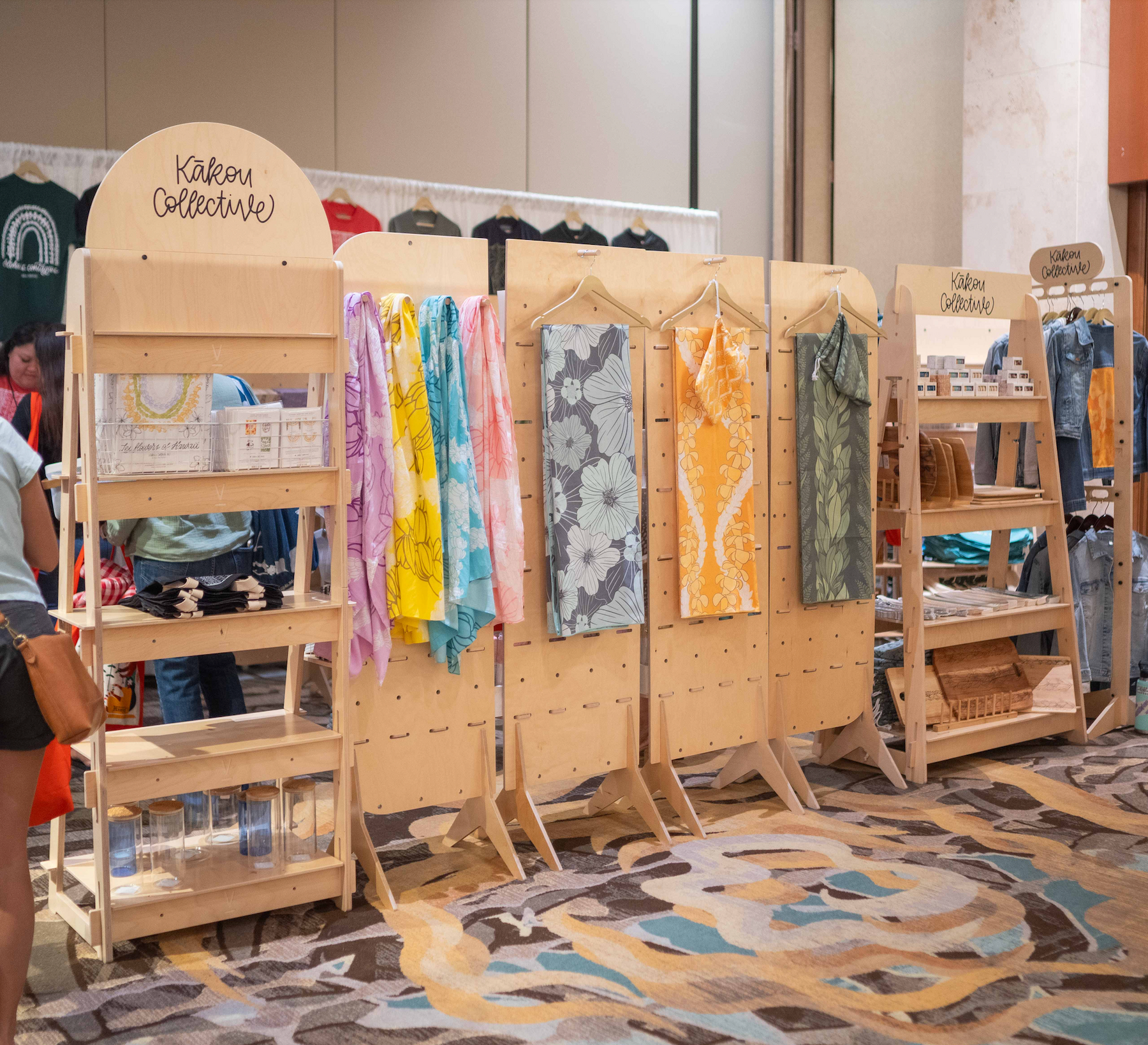 The Ultimate Guide to our 2023 Holiday Pop Ups
HO'OMAU HAWAI'I MARKET
SATURDAY NOV. 25 - SUNDAY NOV. 26
HILTON HAWAIIAN VILLAGE CORAL BALLROOM
Location: Booth 9
Entry: Ticket required. Purchase here.
This is one of my personal favorite events of the year as both a vendor and shopper. Coordinators of this event are Native Hawaiian business owners and are so thoughtful in regards to the event experience. All vendors are intentional in what and how they create and event goers are individuals who understand the impact of supporting local.
Get ready for a major drop – limited seasonal apparel, fresh stationery, and gifts that you'll adore. Hap-e-mail subscribers watch your inbox for exclusive event specials and VIP treats. VIP tote holders, come and visit our booth for the event special.
INPEACE HOLIDAY MARKET
SATURDAY DEC. 2 | 4PM - 8PM
KAPOLEI, HI | 91-1010 Shangrila Street, Kapolei, HI 96707
Entry: Free - open to the public
Get ready for a fun opportunity to support local for the holidays! We're over the moon to announce our presence at the upcoming market hosted by INPEACE (the Institute for Native Pacific Education and Culture). This event is not just a market; it's a celebration of community, growth, and the rich tapestry of Hawaiian culture. We've grown alongside INPEACE through their various business programs, and now, we're popping up together with an amazing lineup of vendors and food trucks. It's a perfect fusion of flavors, creativity, and aloha spirit. Join us for a day filled with shopping treasures, savoring local delights, and soaking in the contagious energy of our thriving community. 
CPB TIDEPOOLS HOLIDAY MARKET
FRIDAY DEC. 8 | 9AM - 2PM
HONOLULU, HI | 220 S King St, Honolulu, HI 96813
Entry: Free - open to the public
Gear up for a fun and exciting shopping day in the heart of Honolulu! We're thrilled to announce our pop-up at the central hub of Central Pacific Bank, where the lively atmosphere and warm aloha set the stage. Beyond showcasing our products, this event marks a celebration of community and progress. So much of our growth is because of the guidance of Central Pacific Bank that we consider them a vital part of our ʻohana. It was thanks to their nomination and guidance that we were honored to win the Small Business Administration's (SBA) 2023 Young Entrepreneur of the Year Award for the State of Hawaii! We will be poppuing up next to several other outstanding local businesses and invite you to shop and support local this holiday season. It's not just an event; it's a fun mix of friends and businesses, all within the heart of Honolulu. Look forward to sharing smiles and discovering delightful goodies together! 
MELE KALIKIMAKA MARKET
SATURDAY DEC. 16 | 10AM - 8PM
SUNDAY DEC. 17 | 10AM - 5PM
HONOLULU, HI | 777 Ward Avenue, Honolulu HI 96814
Location: H6-H8 See Booth Map Here
Entry: Open to the public
Gear up for the grand finale of the year at the Neal Blaisdell Center! We're thrilled to be part of the ultimate pop-up experience, marking the last hurrah of the year alongside an impressive lineup of 250+ local vendors. It's a spectacular showcase of Hawai'i's vibrant creativity, offering a one-stop-shop for all your holiday finds. The air will be filled with festive vibes, and the energy of over 500 local businesses coming together is bound to create a shopping experience like no other. Join us as we celebrate the spirit of community, support local endeavors, and bid farewell to the year with an abundance of smiles, goodies, and the undeniable aloha spirit.
http://www.melekalikimakamarketplace.com/
NA MAKA POP UP
SUNDAY DEC. 17 | 10AM - 5PM
HONOLULU, HI | 777 Ward Avenue, Honolulu HI 96814
Location: H6-H8 See Booth Map Here
Entry: Free - open to the public
More info coming soon!
Two pop ups on the same day? Yes, you read right. Mama and Papa Kākou will be holding down the fort in Mililani while me and Mr. Kākou and the rest of the Kākou Collective Crew are at the Blaisdell. Largest selection will be available at the Blaisdell, but if youʻre in the mililani area stop on by for your last minute stocking stuffers.