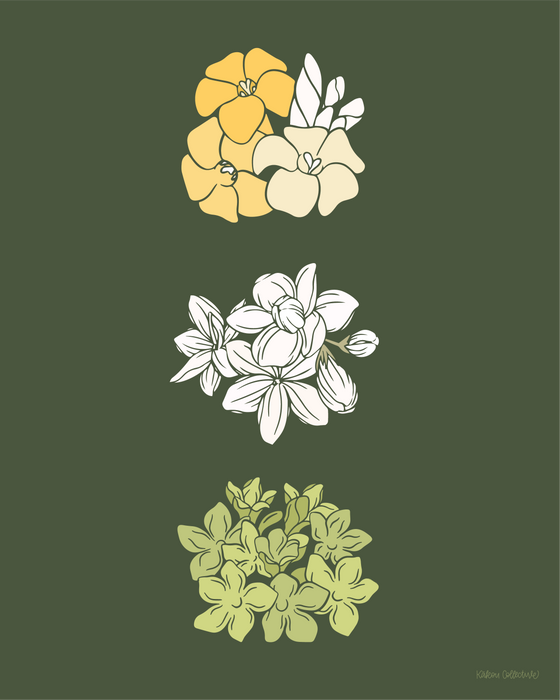 Pua Punahele Trio Art Print
Original price
$25.00
-
Original price
$65.00
Pīkake is the Hawaiian name for  Jasminum sambac, one of about a dozen Jasminum species grown in Hawaiʻi. The name is adapted from the word "peacock," because Princess Kaʻiulani was fond of both this flower and the bird.
Puakenikeni means ten-cent flower, pua meaning "flower" and kenikeni meaning "ten cents." Its name is derived from the early 1900's when visitors arrived by boat, and one could purchase Lei Puakenikeni for 10 cents.
Pakalana is the local variety of the Chinese violet, Telosma cordata, that was brought to Hawaiʻi possibly around the mid 1800's. Often sewn in single strands, then layered upon themselves, this local treasure is an intensly fragrant flower.
Matted Prints are giclée prints produced with archival inks on acid-free paper to ensure print permanence. All matted prints include an archival back mat so they are protected and ready to frame. To fit standard sizing and allow for easy framing, slight cropping from the original may occur.
From the Artist
I created this in honor of our Kakou Collective hui who cherish and love these three pua and have shared their beautiful memories with us. So often we see these flowers only in lei form, and I wanted to honor  the many memories of lei flower picking with our loved ones.