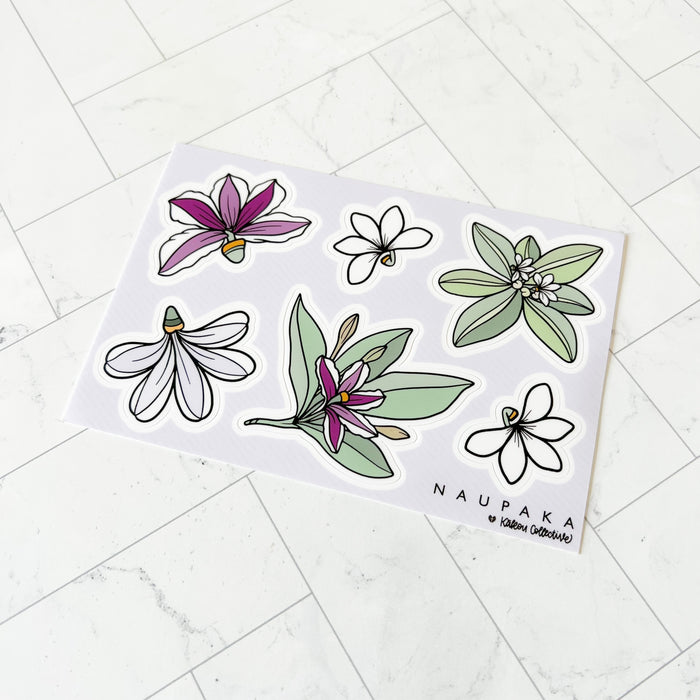 Naupaka Vinyl Sticker Sheet
Original price
$5.00
-
Original price
$5.00
This sticker sheet features indigenous plant, Naupaka - an indigenous shrub with 9 species found throughout the islands.  Inspired by the legend of naupaka, this print represents love enduring despite the distances that may separate us.
Legends tell of two lovers torn from each other. Each were turned into flowers in order to protect them from the wrath of Pele, and separated - never to be toghther. Naupaka Kuahiwi in the mountains and Naupaka Kahakai by the sea. Weaved into this story is the concept that love always endures.
Naupaka is a half-flower plant native to Hawaiʻi. Naupaka Kahakai (beach naupaka) is found on the shoreline while Naupaka Kuahiwi (mountain naupaka) is found in higher elevations.  
4 x 6 in vinyl sticker sheet with varying species of naupaka, bringing the two lovers together
Our pepili wainola (vinyl stickers) are weatherproof, printed on premium vinyl, resistant to: fading, scratching, tearing, and water. Dishwasher safe. Made in the USA
Bulk Pricing: For bulk orders [qty 25+] please email aloha@kakoucollective.com
This listing is for the vinyl sticker sheet selected ONLY. © Kakou Collective 2022