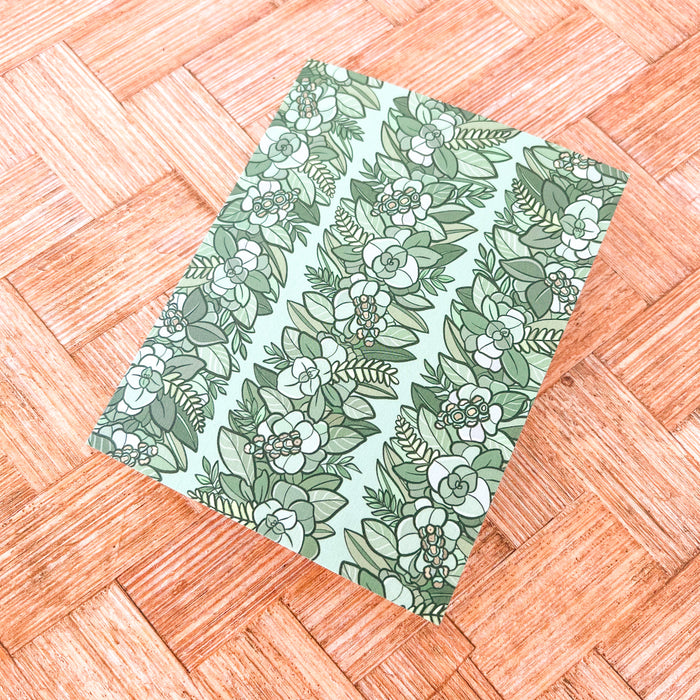 Uluwehi Greeting Card
Original price
$5.00
-
Original price
$5.00
Uluwehi is inspired by plants found in our back yard and is a lei wili papa, a style of lei making where the decorative material is lashed to a center cord with a wrapping technique, often used to make lei pāpale, or lei poʻo. Lei is a symbol of aloha and giving lei is an extension of aloha. It can be given as a symbol of love, friendship, to celebrate, or even honor someone. Not all lei is store bought - this is a celebration of making lei with the resources available to us.
This lei integrates indigenous plants like pōhinahina and palapalai, endemic plants like liko lehua, and other foliage found in our back yard.
Uluwehi: Lush and beautiful verdure; a place where beautiful plants thrive; festively adorned. Lit., Decorative growth.  
Lei wili papa (wili: wind, twist, turn; papa: flat surface).
Lei pāpale (pāpale: hat/cap; thus, lei pāpale would be lei for your hat).
Lei poʻo (poʻo: head; thus, lei poʻo would be lei for your head).
Card Measures 4.25 x 5.5 and includes an envelope

Blank Inside, perfect for personalization

110# Bright Linen

Made in Honolulu, Hawaiʻi 

Made with FSC Certified paper

Original artwork by Kākou Collective

.
This listing is for the greeting card selected ONLY. 
© Kakou Collective 2022