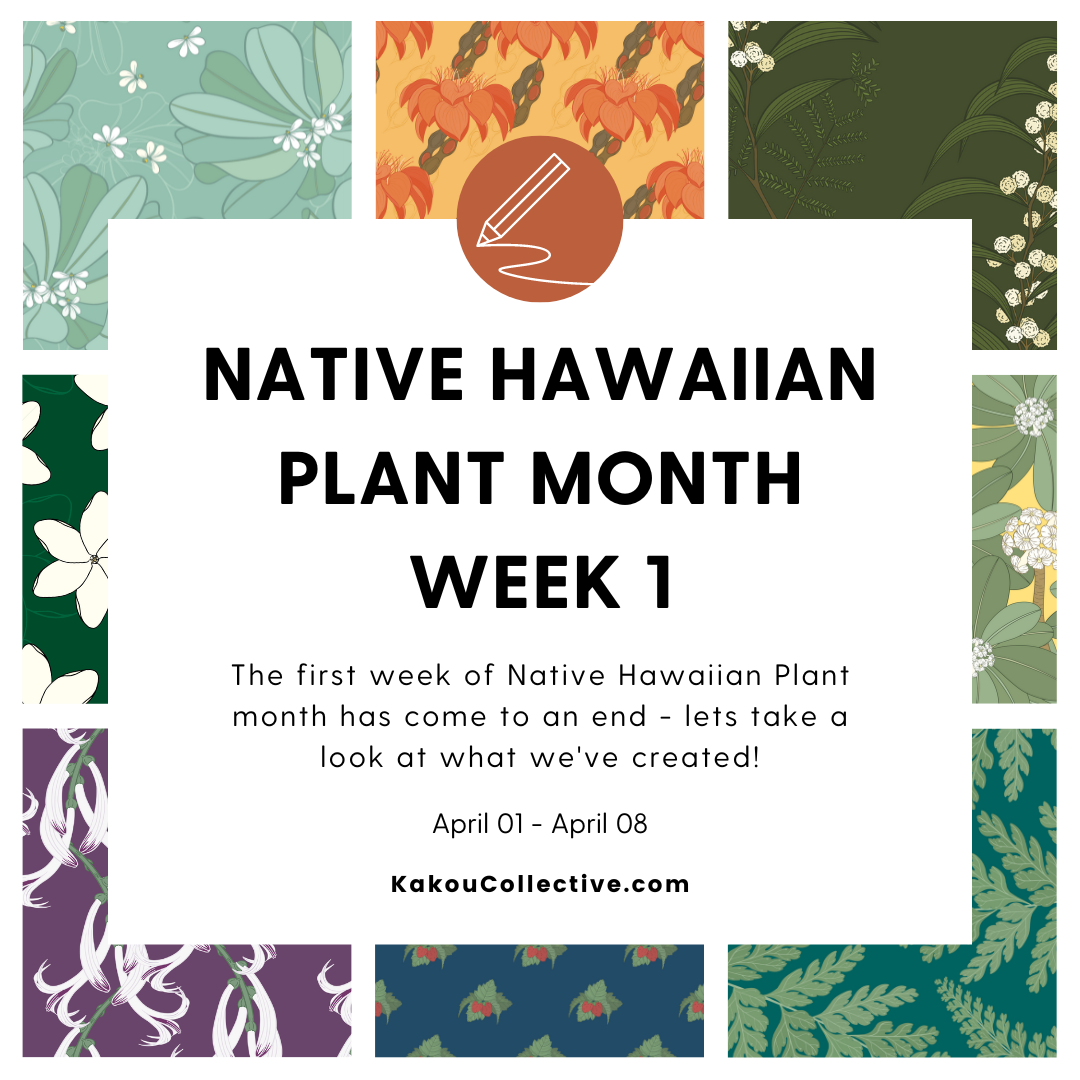 Native Hawaiian Plant Month Week 1 Recap
Aloha!
Welcome to Pule Hoʻokahi (Week One) of ka Mahina Lāʻau Kamaʻāina! (Native Hawaiian Plant Month). In case you forgot what we are up to this month, click here for a refresher, or click here to watch our introduction on Instagram!
Here are your native plants for the week – see if you can spot some of these beauties on your next hike or the next time you take a step outside! (If youʻd like to see the entire month recap, click here).
Naupaka Kahakai (Scaevola gaudichaudiana) is a shrub that is indigenous to Hawaii. Its name, 'Kahakai,' perfectly describes where you can find it – along the ocean's coast! Check out local spots on Oahu like Allen Davis or Ka'ena Point and see if you can spot the Naupaka Kahakai's distinctive 'half' flowers. Their unique blooms are perfectly shaped to help the Hawaiian yellow- faced bee pollinate. This pretty plant does more than just prevent erosion, it's also a nesting habitat for many seabirds. Plus, its hardiness and low-maintenance makes for a great hedge.

Wiliwili (Erythrina sandwicensis) is an endemic Hawaiian tree, and one of the few native trees left on the island of Kaho'olawe. Its beautiful flowers range in color from cream to deep orange, but watch out for the sharp thorns growing on its trunk and branches! This deciduous tree is also extremely useful – its flowers can be used medicinally and Wiliwili wood has been used to make canoes, fish floats, and surfboards.
Koa (Acacia koa) is an endemic Hawaiian tree that can be found in the dry-wet forests on all the Hawaiian Islands except Ni'ihau and Kaho'olawe. See those sickle-shaped leaves on the Koa tree? They're actually extensions of its stems – not leaves at all! Only keiki (baby) Koa trees have true leaves, but they shed them when they mature. Koa is probably most famous for its beautiful wood, often used for making furniture and jewelry, but this plant can do so much more!
It's keiki leaves can be used to induce sleep, and its bark can be used for dye as well. Not to mention, they provide wonderful shade when used in landscaping and are super easy to maintain!
Hōʻawa (Pittosporum napaliense) is an endemic plant that is native to Hawaii. It can be tough to tell Hōʻawa apart from Alani, (another native plant), because their leaves look so similar. Look close to see if you can find a nut on this shrub-like tree. If it has a nut, then you know you have Hōʻawa! Hōʻawa can be found on the Waianae and Koolau Mountain Ranges on Oahu. Its nut is a favorite food for ʻAlalā, (the extremely endangered Hawaiian crow).
Palapalai (Microlepia strigosa) is an indigenous fern, that can grow to be two to three feet tall. Its feathery fronds are hairy, (which is actually how it got its Latin name striga meaning short bristle-like hairs). Palapalai is a common ground cover plant, and is kapu (sacred) to the Hawaiian goddess Laka, (goddess of hula), since it's considered to be Laka's kino lau (her physical manifestation). Not only is this beautiful lāʻau used to adorn hula alters and dancers, but it has been used medicinally to cure hehena (insanity).
ʻĀkala
ʻĀkala (Rubus hawaiensis) is the native Hawaiian raspberry. They are found in forests on Kaua'i, Moloka'i, Maui, and Hawai'i. Its name, ʻĀkala, means 'pink,' and that's just what you get when you squish these juicy berries! ʻĀkala was used to dye kapa, and ashes from its dried stems can be used to treat dandruff. And if you find a ripe one, you're in luck because they are huge! So much bigger than common raspberries! Yum!
Hāhā
Hāhā is the Hawaiian name for native plants in the genus Cyanea. Cyaneas have a wide variety and can range from small shrubs with pokey spines to thirty-foot trees with dangly chandelier- like flowers. Unfortunately, due to the introduction of non-native plants and animals as well as the extinction of their original seed dispersers, many hāhā are extinct. Nowadays, hāhā is preserved through conservation efforts. For example, in 2004, the Cyanea grimesiana varietal
was able to be saved from total extinction thanks to conservationists who collected fruit from the last two remaining wild plants. Luckily, the Pahole Rare Plant Facility was able to grow several plants from these seeds, and are reintroducing them back into the wild. Hooray for conservationists!
Nāʻū
Nāʻū (Gardenia brighamii) is the critically endangered native Hawaiian gardenia. The flowers sort of look like a Tiare, but they smell like gardenia mixed with coconut! YUM. (But don't eat them haha!) This beautiful shrub used to be found all over the islands, but sadly now only ten nāʻū exist in the wild! Auwe! The pretty sunset yellow-orange pulp from its fruit was used to make a very special dye reserved for Ali'i (Hawaiian nobility). Actually, the color made from this pulp was so unique that it was named naʻu after the plant. Help out conservation efforts and consider planting nāʻū in your garden! It likes full sun and doesn't require much watering once it's established in the ground. (Delicious smelling blooms are a bonus!)
If youʻd like to see all of our collective content for Native Hawaiian Plant Month, click here.
To get in the Lāʻau Kamaʻāina spirit this month, make sure you check us out at our Merrie Monarch Pop Up at the Grand Naniloa Hotel, (4/12 – 4/15 from 10am – 3pm), where we'll be selling our newest creations featuring endemic species like palapalai, ilima, naupaka and several Hawaiian birds. At *this event only* we'll have thrifted jean jackets with Naupaka, ilima, and mamane (to name a few) - inspired fabric that was featured in our MAMo Weareable Art show! (Super limited stock so run, don't walk!) If you can't make it to Hilo, no worries beef curries! You can still get your Naupaka on with our Naupaka Vinyl Stickers, available here on our website.
Stay tuned for more Lāʻau Kamaʻāina fun!
Mahalo for the resource used for this article:
1. Bishop Museum. "Online Database." Bishop Museum - Ethnobotany Database, Bishop Museum, http://data.bishopmuseum.org/ethnobotanydb/ethnobotany.php?b=list&o=1. 
2. "Hui Ku Maoli Ola - Transforming Land Back To 'Āina." Hui Ku Maoli Ola Native Plant Nursery, Hui Ku Maoli Ola,
http://hawaiiannativeplants.com/.