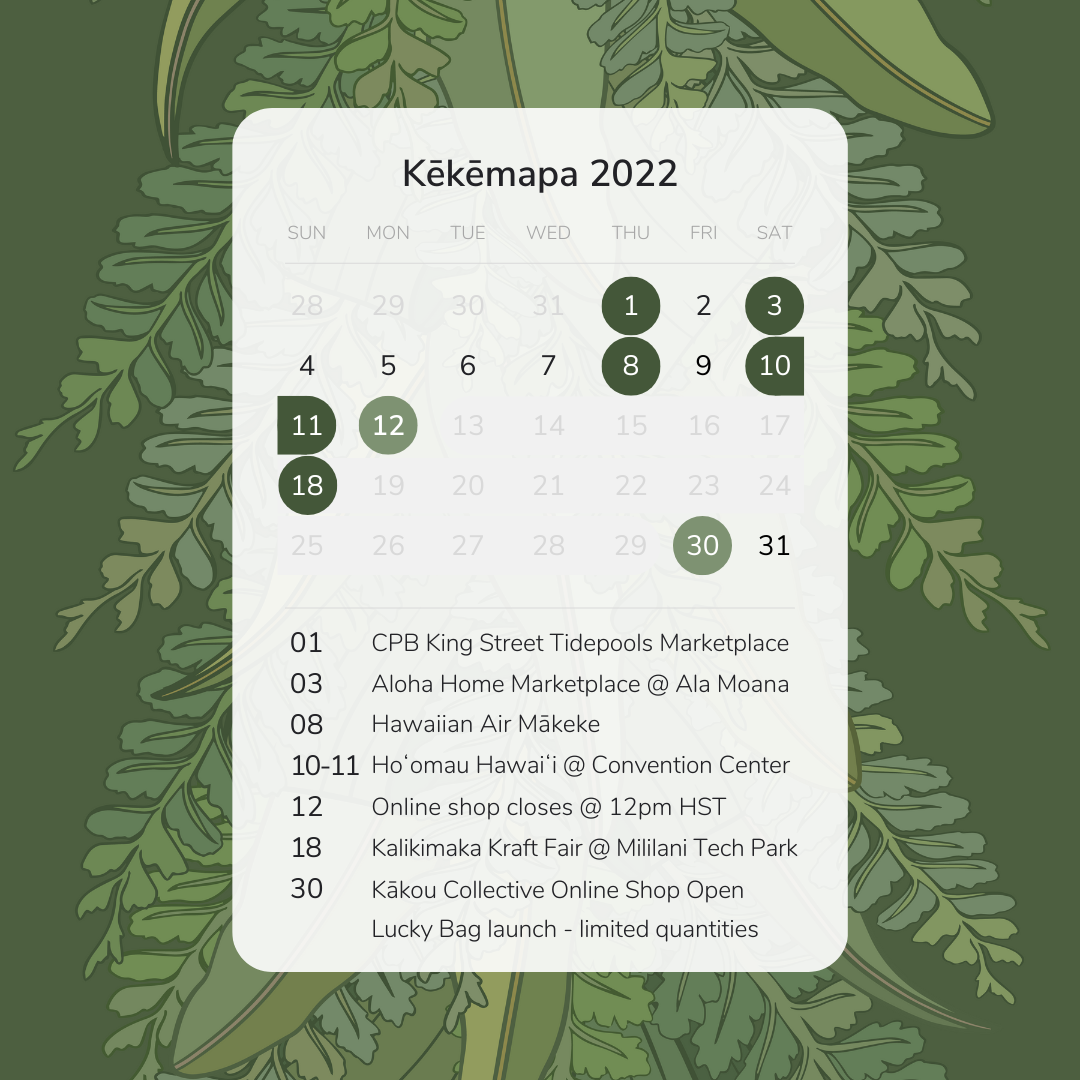 December 2022 Holiday Schedule
*UPDATED NOV. 29 2022*
This schedule of events will be updated as we obtain new information and resources on each event. Follow us on Instagram for behind the scenes and sneak peeks. The following is our 2022 December schedule. Please click here for our November 2022 schedule.
Kekemapa 2022 Holiday Schedule (December)
Thursday, Dec. 01 | CPB Rising Tide Holiday Marketplace
@ Central Pacific Plaza | 220 King Street
10am-2pm
This is a curated market of businesses that are part of Central Pacific Banks Rising Tide. This marketplace is open to all and is in the heart of Honolulu. We will be bringing a limited selection of items including our Made in Hawaii stationery and our studio engraved homegoods.
Saturday, Dec. 03 | Aloha Home Market
@ Ala Moana Center Market - Parking Area on Mall Level 2 by Macys and Ala Moana Hotel

9am - 2pm
Aloha Home Market is Hawaii's premier pop-up market and showcase for unique local treasures and finds! Aloha Home Market features Hawaii's finest furniture makers, artisans, jewelry makers, clothing designers, food vendors, and more. 
Special Deals:
Planner Stickers: Buy 2, get one free (Planner stickers are $3/Sheet)
We will be bringing the rest of our Home Goods - once weʻre out, weʻre out! 
Spend $150 get a free tote
More about Aloha Home Market Dec. 03 Event
Thursday, Dec. 08 | Hawaiian Air Makeke
@ Hawaiian Air - Koapaka
3pm - 6pm
This event is for the employees and ohana of Hawaiian Air. At this event, we will be featuring shop favorites, perfect for gift giving and stocking stuffers.
Saturday, Dec. 10 - Sunday Dec. 11 | Hoomau Hawaii Market
@ Hawaii Convention Center
Saturday Dec. 10 | 10am - 5pm (VIP Tote gets early entry)
Sunday Dec. 11 | 10am - 4pm (VIP Tote gets early entry)
Learn More about the event here
Ho'omau Hawai'i Market highlights Native Hawaiian owned businesses here in Hawai'i as well as other local shops who all have the same mission of sharing the Hawaiian culture through their passions and talents.  Hoʻomau Hawaiʻi believes that we can work together to help mainstream our heritage, and hopes to help others integrate Native Hawaiian culture and language into their lives in practical ways. Every vendor at this event will be selling at least one item that is reflective of the Hawaiian culture. 
This will be the last big market of the season and we saved the absolute best for last:
Monday, Dec. 12 | Kakou Collective Online Shop Closes for the holidays
@ 12pm HST
Any specialty items left from Hoomau Hawaii will be uploaded to our online shop (please follow on Instagram and subscribe to our newsletter for the update). All orders expected to ship by Friday, December 16.
Sunday, Dec. 18 | Kalikimaka Kraft Fair
@ Mililani Tech Park
We added one last event to our holiday season. This is your last chance to shop directly from Kakou Collective aside from our Ben Franklin Lockers in Pearl City (locker 12) and Ben Franklin Mapunapuna (Locker 50). 
Saturday, Dec. 30 | Kakou Collective Online Shop Reopens for Lucky Bag Drop
Time TBD
Limited quantities of our lucky bags will be available. All sales will be final - no peeking - each bag is a surprise to the lucky buyer. 
$40 Lucky Bag ($80 Value)
$20 Lucky Bag ($40 Value)
$10 Mystery Sticker Pack ($15-$20 Value. Will include 5-7 Stickers)