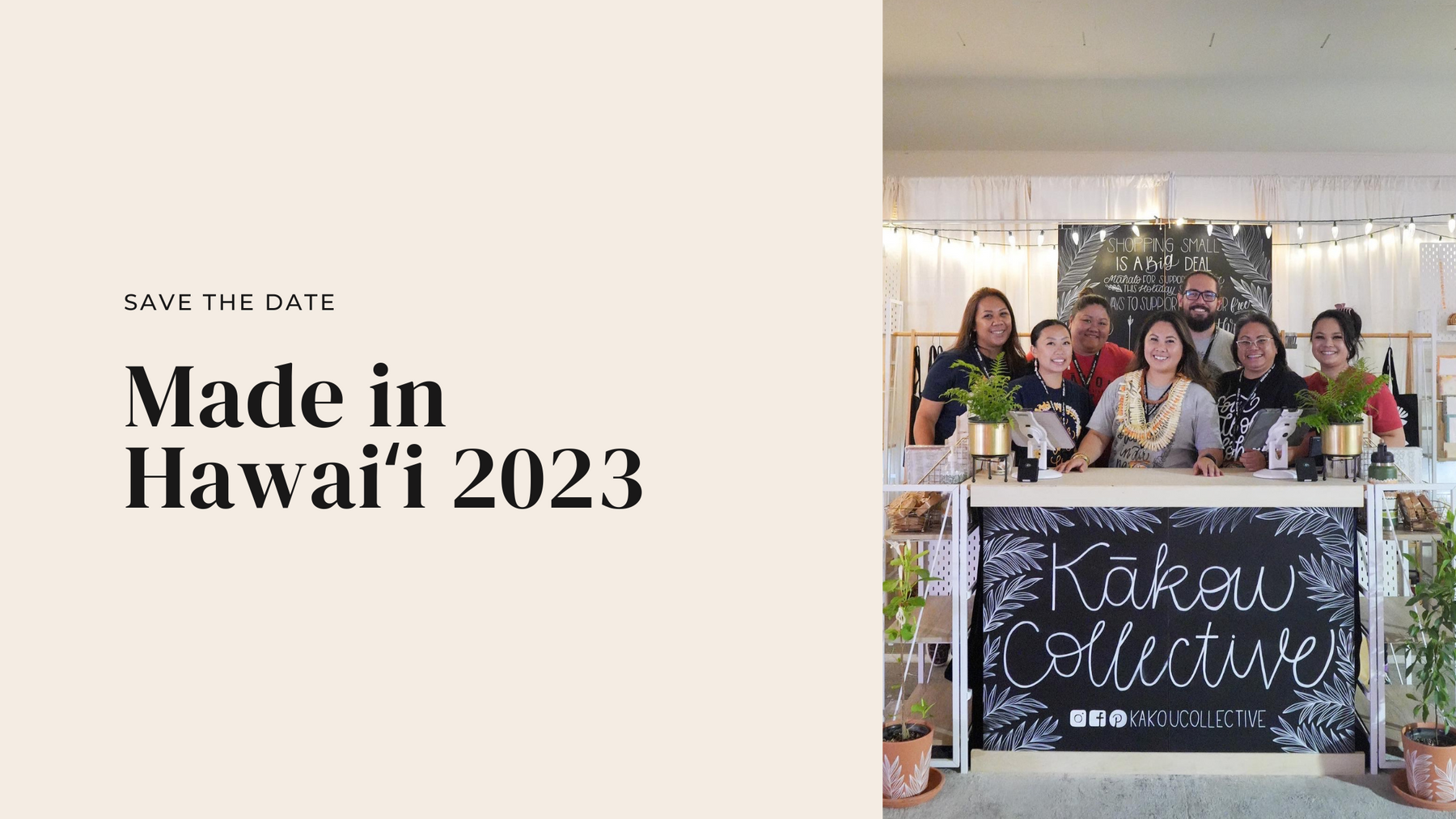 Save the date: Made in Hawaii 2023
Aloha, Kākou Collective Hui!
We are over halfway through the year, and were excited to share about our next event! So that you can plan ahead, we're bringing you the inside scoop on one of the BIGGEST markets that we're taking part in this year – the Made In Hawaii Festival! 
Are you as excited as we are because we have three booths this year! If you haven't been to a Made in Hawaii Festival before, mark your calendars for August 19 – 20, because you don't wanna miss this one! It's so much fun – there is live music, cooking demos and tastings from top chefs around the islands, and even fashion shows! There will be over 400 local vendors selling mea that – yup, you guessed it! – is all about Hawaii. Because it's such a massive event, you'll be able to shop outer-island brands and those hard-to-find boutiques that Instagram has been taunting you with! 
Please stop by and say aloha to us! Walk in straight through the doors, go all the way inside and to the right – that's our spot! We're in the top righthand corner of the venue and can't wait to see you all! Plus, we are going to be launching some *brand-new* items we've never sold before (!!) and there will be a gift with purchases over $150 (pre-tax).
Tickets for Made In Hawaii go on sale on August 4, and when you buy your ticket, you'll be automatically entered in the sweepstakes. You could win 160,000 Hawaiian Miles, a two-night Stay at The Ala Moana Hotel, and two tickets to the 2024 Made In Hawaii Festival! (As if you needed more incentive to go to this mākeke!)
For more info on this event, click here. Keep an eye out on our website for more details about our exciting new mea. We've collaborated with a few amazing local brands for these new products and can't wait to share about it!  If you're not already subscribed to our Hap-E-Mail list, get on it so you never miss an update!
A hui hou! (Until next time)
Mahalo for the resources used in this article:
Kanai, Maria, and Brie Thalmann. "Your Ultimate Guide to the Made in Hawai'i Festival with 400 Local Vendors." 

Honolulu Magazine

, 8 Nov. 2022, www.honolulumagazine.com/made-in-hawaii-festival-2. 

Made in Hawaii Festival

, 23 June 2023, madeinhawaiifestival.com/.