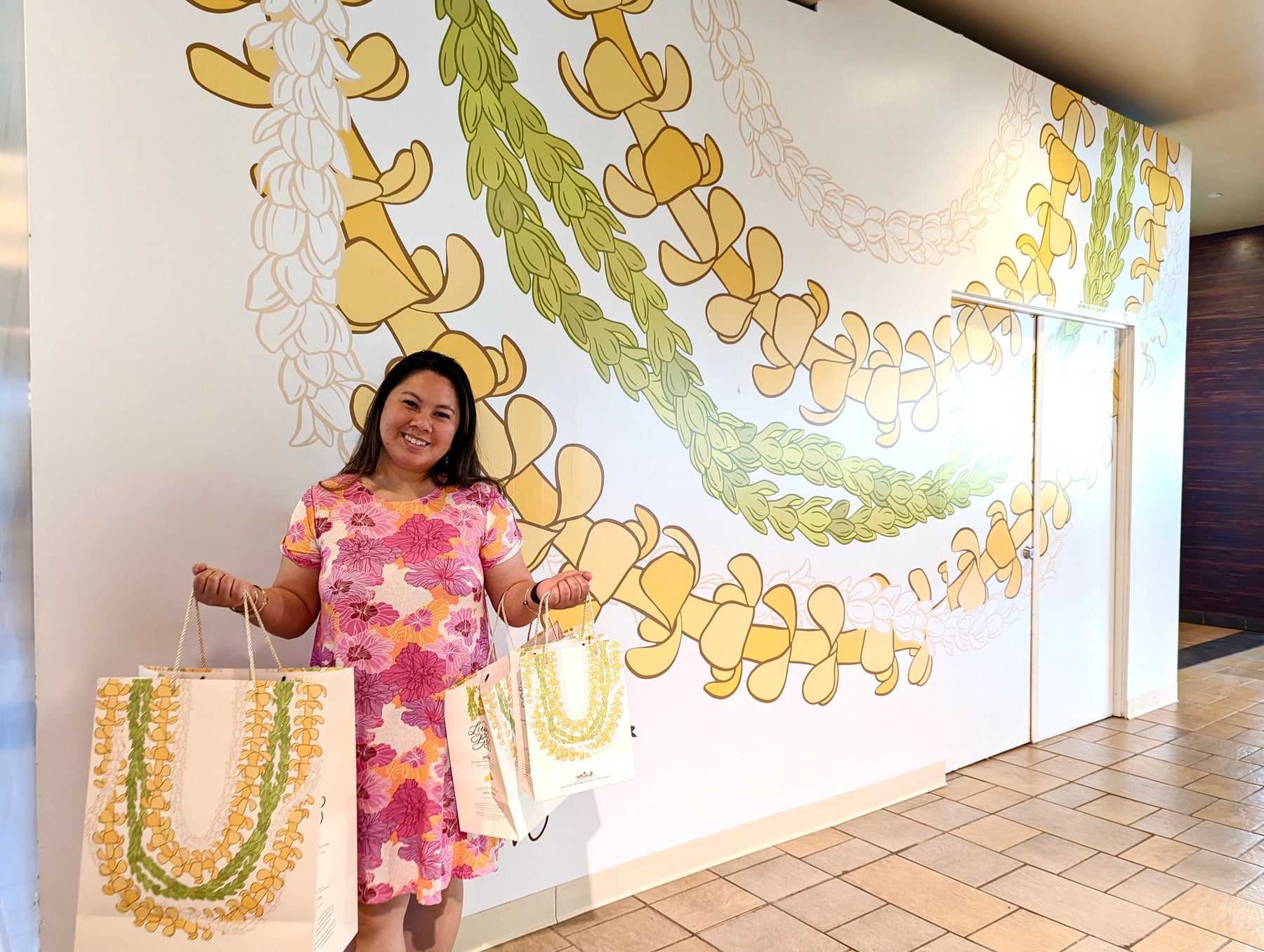 Royal Hawaiian Shopping Center Collaboration
ROyal hawaiian shopping center collaboration
In case you missed it, we're so proud of the work we've done for the Royal Hawaiian Shopping Center in 2022.
Our stacked lei design - showcasing pakalana, pua kenikeni, and pīkake - was featured on two gift-with-purchase items: a water-resistant pouch and a water-resistant tote. Patrons of the Royal Hawaiian Shopping Center could bring their receipts dated between August 15 - September 30, 2022, to Helumoa Hale Guest Services to redeem their items.
Our stacked lei also grace the walls of this temporary installation near the food court. After we submitted our design for the gift-with-purchase tote, the Royal Hawaiian Shopping Center requested to use the art for the installation as well. The amount of tags we've received from you, our hui, since this wall was unveiled has been humbling and overwhelming. We can't thank you enough for your support and we're happy to share this moment with you. The installation will stay up through 2023, giving us all plenty of time to enjoy it.
There's one more item that we've worked on for this partnership that will come to the Royal Hawaiian Shopping Center in January 2023.

Lucky bags! You can purchase a lucky bag from your favorite vendors in the Royal Hawaiian Shopping Center between January 1 - 2, 2023. The shop will determine the value of the bag, but your purchase price will always be half of the value of the items inside. Every lucky bag will use the same packaging, which features Kākou Collective art! We love how our stacked lei look on these bags and we hope you do too.
If you have a gift-with-purchase item, pass by the temporary installation, or purchase a mystery bag, please send us a picture! We love when you share your photos with us. A hui hou! (Until next time!)