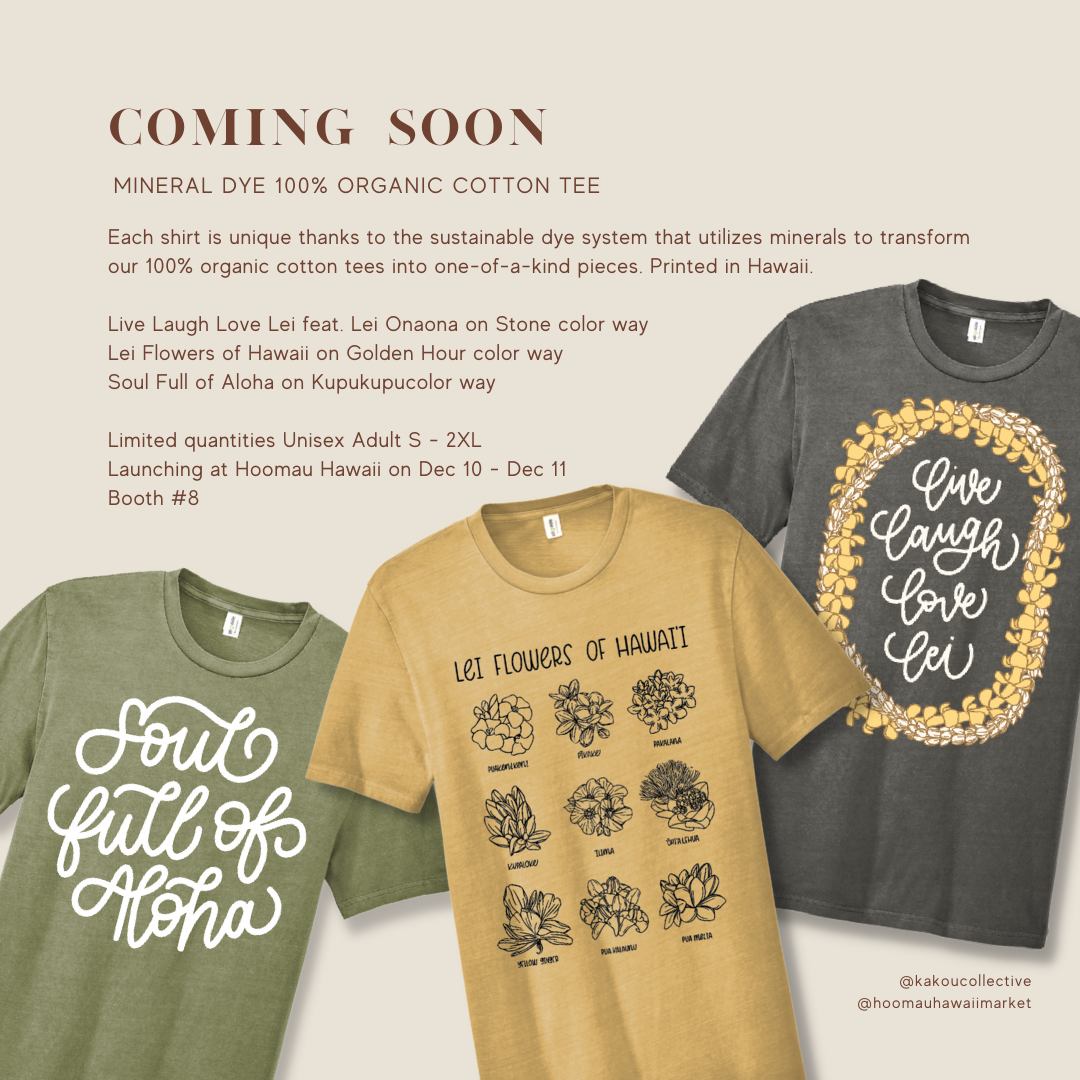 Our First Apparel Collection
Our First Apparel Collection
If you've visited one of our event booths, you may have seen us wearing Kākou Collective shirts. What started as our way of distinguishing ourselves as folks who might be able to kōkua (help) with a shopping experience turned into one of our most requested products.
One of our core values is aloha 'āina. All of our products are intentionally eco-friendly, from the raw materials selected to the production processes used. We knew that sticking to this core value would be a particularly challenging task when considering an apparel line. The clothing industry accounts for massive amounts of pollution, accounting for approximately 10% of global carbon emissions and 20% of industrial water pollution.
We are proud to introduce our 100% organic cotton tees that have been colored using natural mineral dyes (making no two shirts alike), printed right here in Hawaiʻi. 
Our shirts will be available at Ho'omau Hawai'i Market on December 10 & 11, 2022.
Each shirt is hand-dyed using only natural minerals, so they will each have their own unique look.
The world of apparel is brand new to us, so we only have a limited quantity of each design in stock. We appreciate your patience as we figure out the best way to get these products to you moving forward.
More information about each design can be found below. Come visit our booth at Ho'omau Hawai'i to see the products in person! A hui hou.
I've gone back and forth about getting into apparel since 2020, and I finally took a leap and went for it. I was hesitant because apparel can be very tricky - the fit, the color, the commitment to a singular design, and the biggest one: its impact on the environment. The clothing industry accounts for massive amounts of pollution, accounting for approximately 10% of global carbon emissions and 20% of industrial water pollution and new apparel is being made every day, so I wondered - should I really be making apparel?   Kakou Collective is all about identifying with our cultural values and creative expression as well as celebrating what makes Hawaiʻi special. I realized that when we create, we give our community opportunities to authentically express themselves and to educate others. I quickly realized that my hesitation in creating apparel was really about my lack in confidence of others believing in what we do and inability to commit to a singular design. So heres me, getting over the excuses, and taking a leap. I paired it down to three designs and decided that if and when I'd make a shirt, it'd be one made with the ʻāina and our community in mind.    

Why 100% Organic Cotton? 
Conventionally-grown cotton is bad for the environment because of its high water consumption and pollution, soil degradation, greenhouse gas emissions, and use of harmful pesticides and fertilizers. Organic cotton is made without toxic substances and polluting pesticides, and it's also grown in healthier soil. Because of this, textiles made from organic cotton are generally of much better quality.   
Why Mineral Dyed? 
Natural dyes like ones made from minerals are biodegradable, non-toxic and non-allergenic, making them generally better for the environment and for use around humans, as they don't have any carcinogenic components which are found in many synthetic dyes. The use of natural dyes allows workers to avoid exposure to harsh chemicals and avoid the severe health implications that working with such toxins over long periods can cause.    
Why print locally? 
When we support our local manufacturers, it positively impacts our local economy by keeping the wealth within our community. Why outsource when we can positively impact a fellow local family? Iʻm proud to say these shirts are printed by a local Native Hawaiian owned business.   
Why these designs? 
Whenever I illustrate, I always think of someone. In this case, I thought of all of you. This is a new chapter for us here at Kakou Collective, so I wanted to dedicate each of the shirts in our first release to all of you:
Lei Flowers of Hawaii is dedicated to our community that grew with us in 2020 through our illustration tutorials. Mahalo for continuing to support and grow with us!
Soul Full of Aloha serves as reminder that we are all capable of sharing aloha because its part of who we are.

Live Laugh Love Lei is dedicated to all of the lei lovers that spread aloha through your energy, laughter, love, and of course love for lei culture.