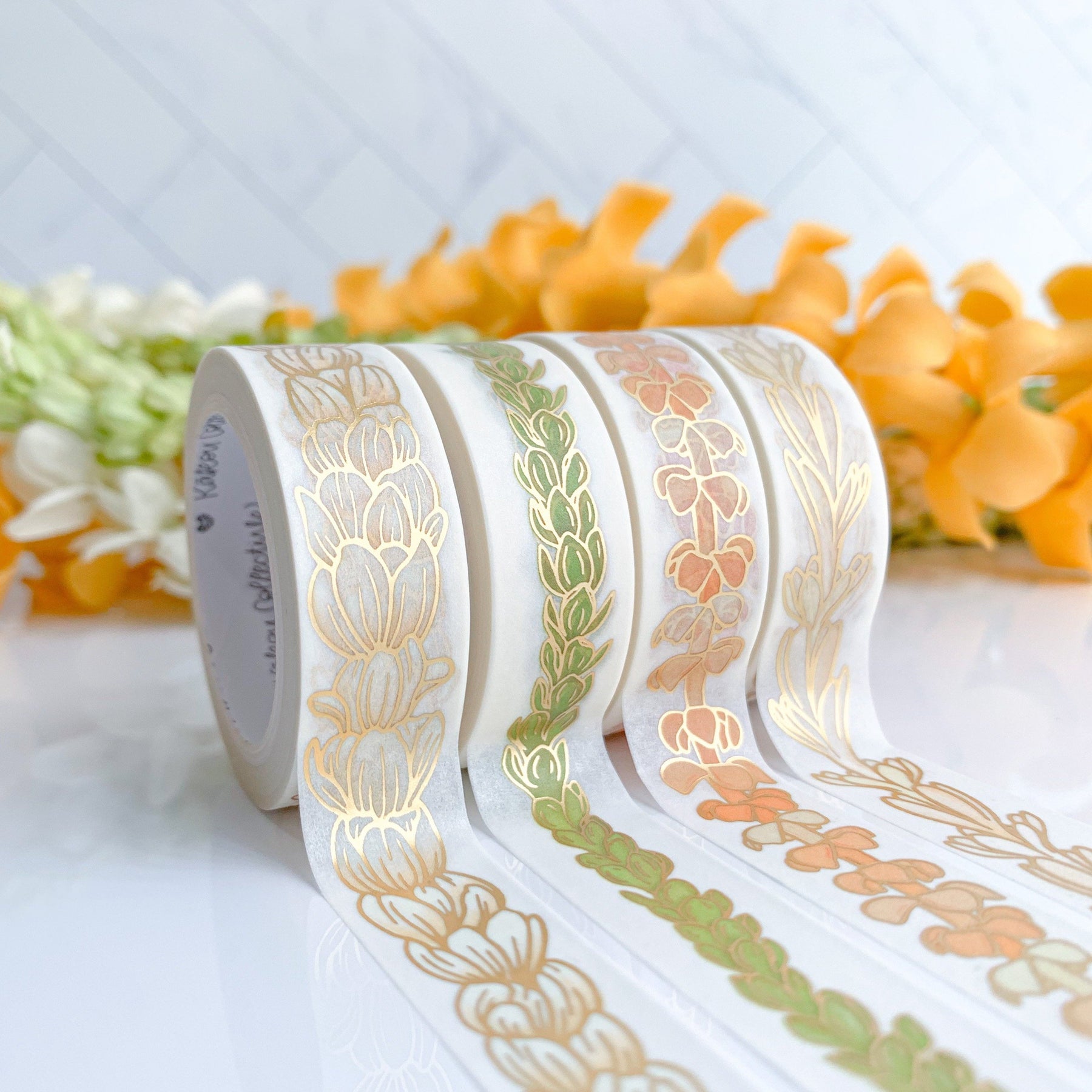 Na Ano Hana Lei i Ka Kakou Makeke
Nā 'Ano Hana Lei i Kā Kākou Mākeke
While we often associate lei with beautiful flowers and strong fragrances, nā po'e Hawai'i i ka wā kahiko (the ancient Hawaiian people) made lei with many different materials including leaves, bones, hair, teeth, and feathers. Each lei carried a different significance for those who made or wore them and were made with varying techniques depending on the intention and materials used. Our mākeke's (market's) growing lei stand showcases just a handful of these lei-making styles. Let's take a look at what they are!
Our lei kī is drawn in the hilo style. This method of twisting was used to make all kinds of cordage in Hawai'i, not just lei. In order to make a lei kī i ke 'ano hilo (ti lei in the hilo style), the leaves must first be cut into two strips, removing the bone. Then, they must either be frozen overnight or heated in the microwave, under an iron, or in boiling water until they become soft. Take two softened strips and twist them together until they form a rope. Lā'ī (ti leaf) strips can be added throughout the process to elongate the rope until the lei reaches the desired length.
Our uluwehi is drawn in the wili style. Wili uses cordage like lā'ī rope or raffia to secure different types of foliage together. To make a lei wili, tie a small amount of cordage together and begin to weave a three-strand braid. Tuck the chosen foliage into each fold of the braid and watch the lei come together. Continue this pattern until the lei reaches the desired length. Lei wili is often mistaken for lei haku, which uses a similar weaving method, but doesn't rely on cordage as a base. Lei wili is the style of lei typically chosen for lei po'o (lei worn on the head) because a well-made lei wili will have a flat backing that sits flush against the wearer's head.
Most of our lei are drawn in the kui style. Lei kui is made by piercing the chosen materials with a needle and thread. A special style of lei kui is lei poepoe. In lei poepoe, flowers are pierced through the side so that the top of the blooms face out along every edge of the lei. Our lei kalaunu is drawn in the poepoe style to showcase the unique star shape of the flower.
We hope to add more lei styles to our mākeke in the near future. Stay tuned for shop updates coming soon!
A hui hou. (Until we meet again.)