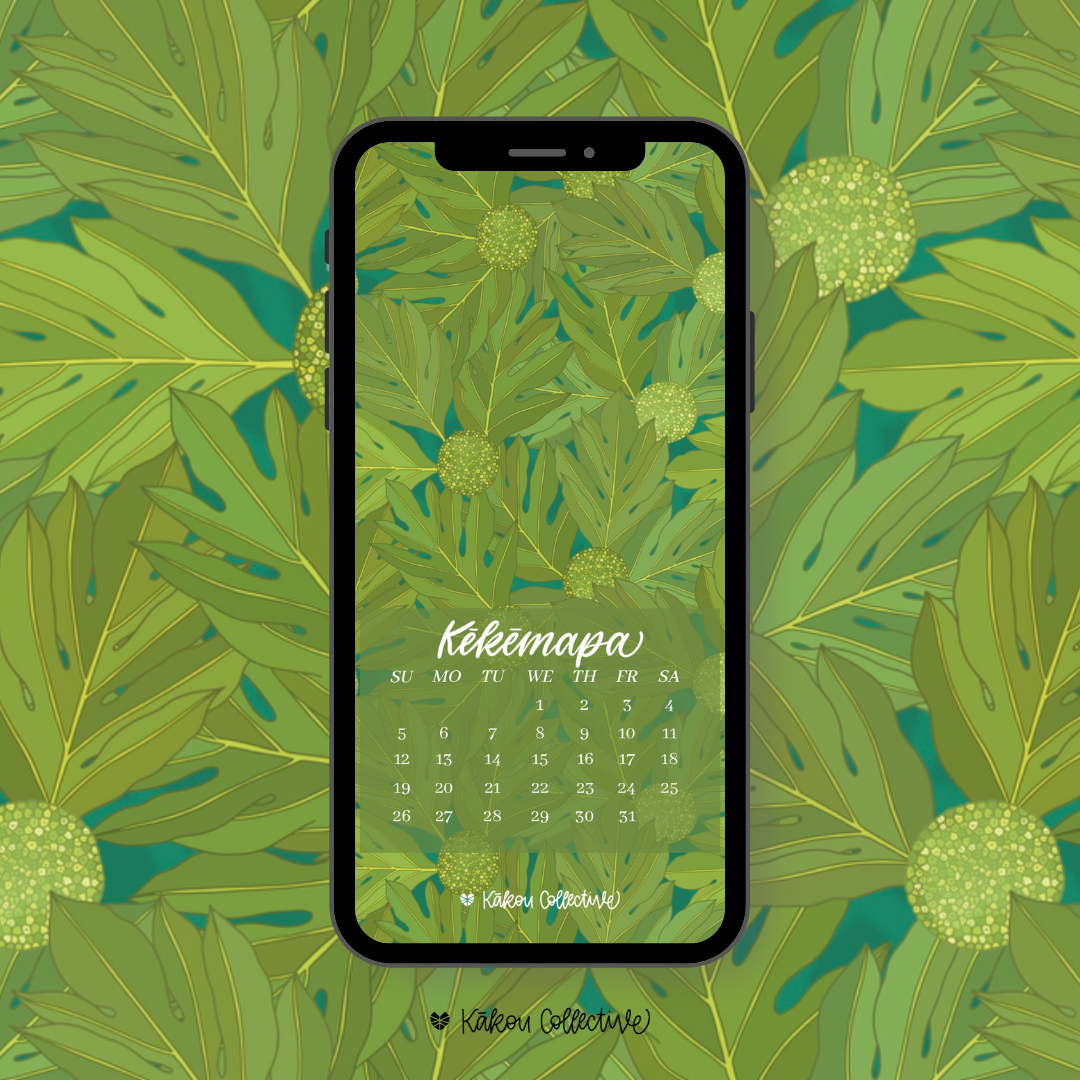 Kēkēmapa Wallpaper - ʻUlu
We are so excited to share our newest wallpaper, ʻulu. I feel like this may not be a surprise to many of you who have scooped up our matching ʻulu notepads or perhaps those of you that sponsored an ʻulu tree - but tisʻ the season!
Ever since my days up at Kamehameha Kapālama, Iʻve been so inspired by this plant. Whether it was the mural on Keʻelikōlani Auditorium, the ʻulu tree right next to the breezeway, or the multitude of trees outside of the chapel - it was always around. This is also one of the first trees that my son could recognize on his own, and I imagine its because of the iconic leaves as well as memorable fruit that hang from its branches.
ʻUlu or breadfruit is a staple plant found in Hawaiʻi as well as the Caribbean, South Asia, and Polynesia. It is versatile and can be prepared similarly to a fruit or vegetable. As one of the most highest yielding fruit trees, it's is no surprise that it's a go-to for many farmers and families. 
Every part of the tree has practical use - trunks and limbs were used for wood work (houses, canoes, firewood, musical instruments), the inner bark had multiple uses ranging from kapa to rope, and flowers were even used for lei making. ʻUlu is associated with the god of war, politics, farming, and fishing, and is considered a kinolau (earthly form) of the god Kū. This plant is often associated with perseverance, growth, and resilience.
We felt this would be a perfect plant to shine light on in the last month of the year and is alignment with our goal of flipping the script - I've been referring to it as indigenizing the Holidays. So often the Holidays end up being a cliche of designs that don't represent us. There's rarely (I wont say theres no) snow or mistletoe so I felt it would be fun to celebrate the things that make us special vs. continuing to build on a generalized concept of this time of the year in western tradition.
Reminders for the month of Kēkēmapa:
- Online shop closing so our ʻohana can enjoy the holidays on 12/5 @ 11:59pm HST
- Pop-Up: Saturday 12/4 4pm - 8pm for Kanaka Night Market at Waiwai Collective in Mōʻiliʻili
- Pop-Up: Wednesday 12/8 5pm-9pm at Pearl City Country Club
- Pop-Up: Saturday 12/18 11am - 3pm at Nordstrom Ala Moana
- Pop-Up on Kauaʻi (TBD between 12/26 and 12/29)
May your wallpaper inspire you all throughout the season to be bold, vibrant, and to perpetuate or cultivate the holiday traditions that are meaningful to you. Please, feel free to download whichever wallpaper speaks to you. We have three options available*: ʻŌlelo Hawaiʻi, English, and a blank version
.
By downloading, you acknowledge that this is for personal use only. Not to be altered, redistributed, sold, or produced. Copyright Kakou Collective 2021. (Weʻve seen this used as a story highlight and apple watch backgrounds too).
Click to download the wallpaper that suits you best:
ʻUlu © Kākou Collective | Kēkēmapa 
ʻUlu © Kākou Collective | December