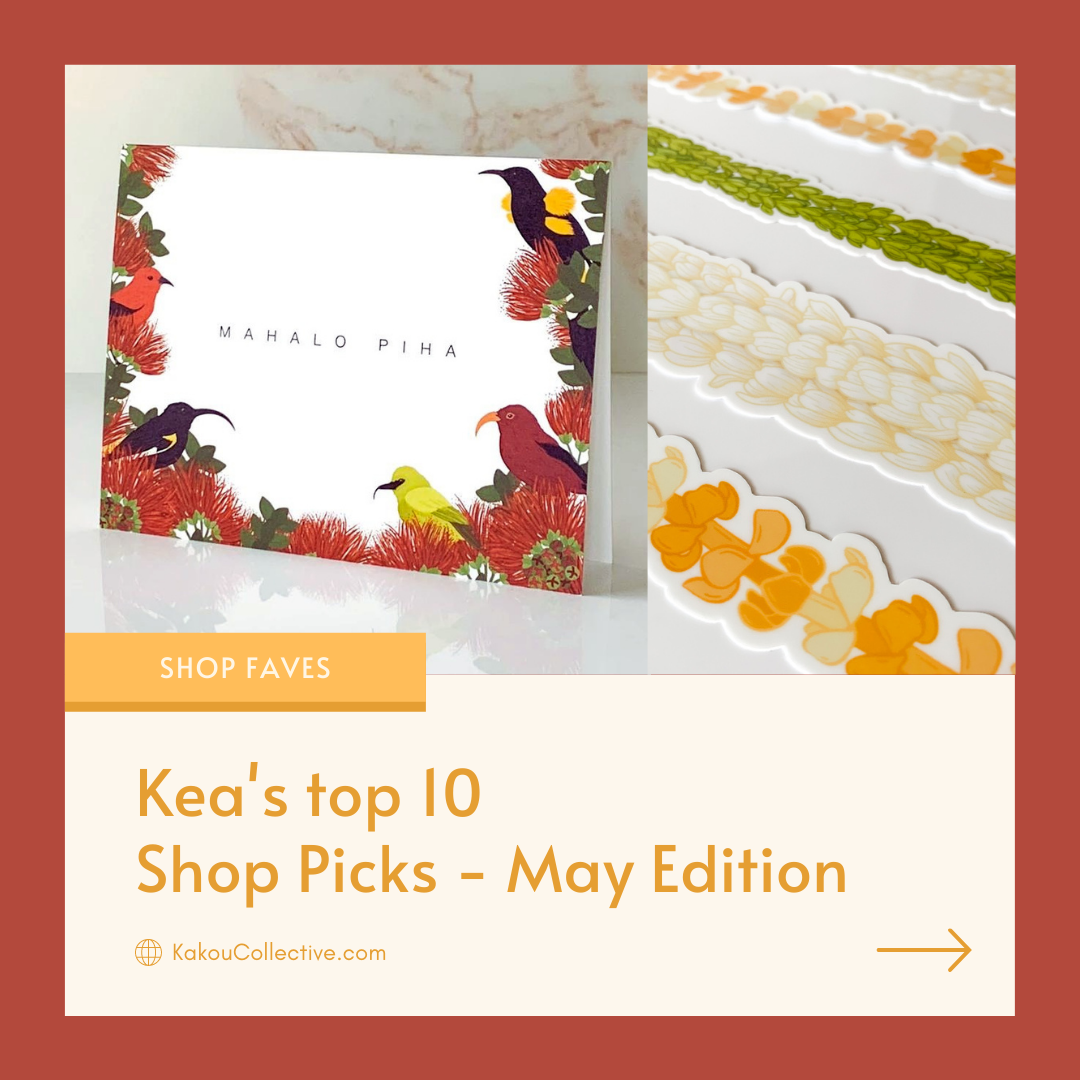 Kea's Favorites - Top 10 May Edition
Everything in our shop contains artwork, born from my creativity and imagination, inspired by my homeland... but I totally have favorites! Here's my current top ten in no particular order as of May 2022:
1. Something From my favorite collection: Kamanu'ailehua
Our Mahalo Piha card from our Kamanu'ailehua collection. This collection was inspired by and made for my son. Part of his middle name is Kamanu'ailehua and it references the birds that eat from the lehua blossom. We were also fortunate to expand on this collection and collaborate with one of my favorite Native Hawaiian business owners, Leilani of
the Keiki Dept.
This card is one of my favorites because it incorporates these native birds as well as the phrase, Mahalo Piha. I remember when I first learned this phrase meaning wholehearted gratitude [the English translation really doesn't give the feeling behind the meaning justice], from Queen Liliuokalani's mele [song] Queens Jubilee. It truly captures this feeling and I feel like for a card, its a perfect  sentiment to share.
2. First Boxed Set - Lei Punahele
Bringing this to life took over 30 drafts over the course of a year. I am so happy with the end result and it continues to not just be my favorite, but a hui favorite.
3 + 4. First and forever favorite: Puakenikeni Pua and Lei Puakenikeni
Puakenikeni Pua is the first local favorite flower washi that we released in 2020 and its still a hui favorite. Lei Puakenikeni is the first local favorite lei that we released that same year and it was that catalyst for our entire lei series.
I love these lei pepili wainola (vinyl stickers) because my art gets to travel with me wherever I go, and these lei are going to last awhile!!! If I could add one thing to it, I'd make them hold their iconic fragrance. Lei Puakenikeni is the crowd favorite, but Lei Pakalana is my personal favorite. We can't forget about lei pīkake, my sister and Kaʻiuʻs Pua punahele.
8 + 9. A complete set - Puakenikeni
Finally connecting where we first started and where weʻre at now. The first product I ever made was planner stickers. Cut in our home studio on a Silhouette Cameo 2. Making planner stickers is a pain and there are so many inconsistencies, so to have a high quality sticker kit made was a huge win and milestone for me as a planner specific shop. As for the matching washi tape, puakenikeni was the first washi tapes we ever made (thus those are also on our top 10), but I wanted to make a
Puakenikeni box set
. Box sets are way more eco friendly and just by being in a box you know it all goes together. This was a chance for me to flex my creative muscles and to expand on something that is already loved with something new yet familiar. You can
read more on the box set here.
Darker da pō, brigher da hōkū (Darker the night, brighter the stars). This collaboration with @MaddahEarth was such a good one. I got to befriend someone that inspires me and create my first ever holographic sticker. Black is one of my favorite colors (or lack thereof...) but even I was worried about how this would turn out. This picture doesnʻt do this sticker justice so
here's a reel
where we show all of the stickers in this collection.