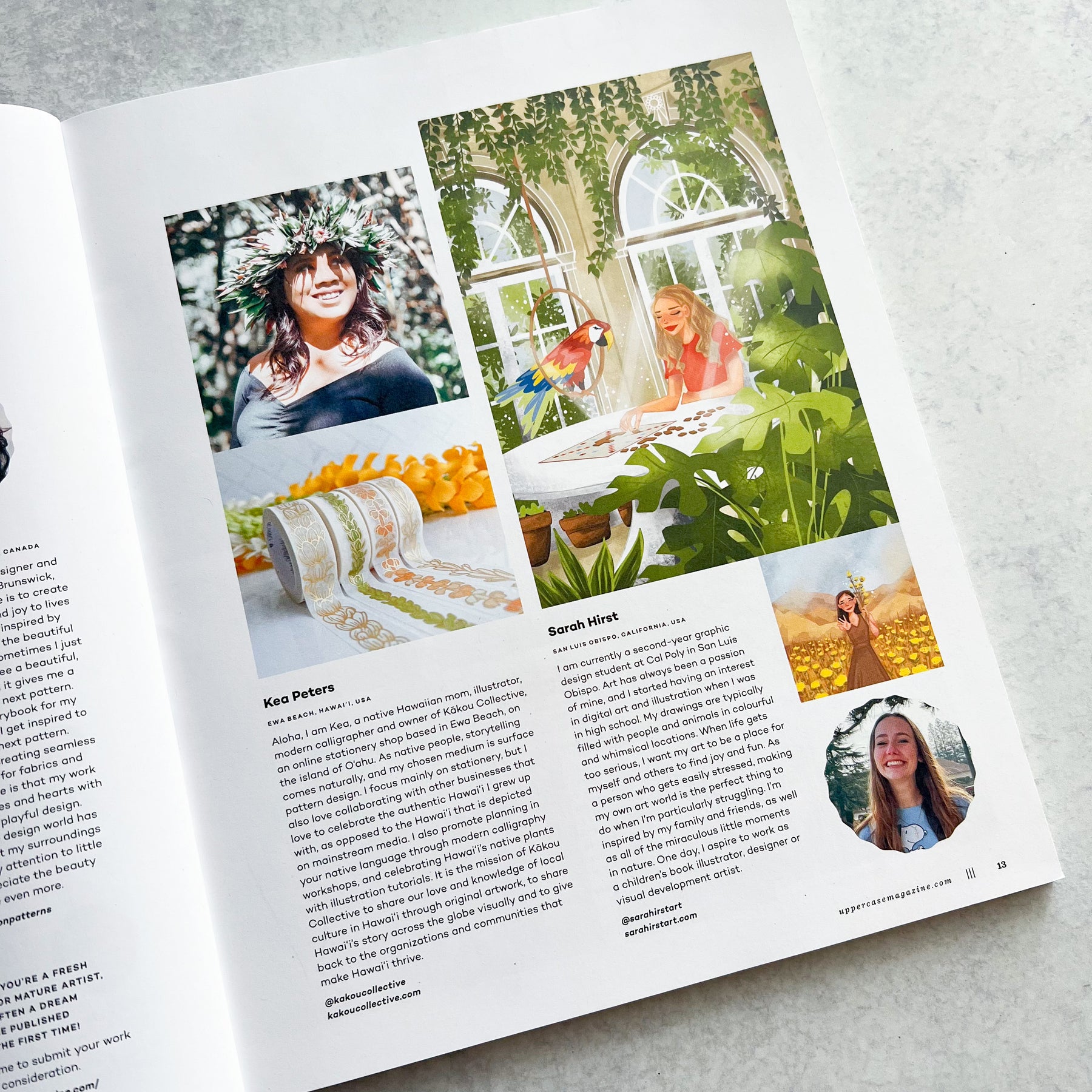 Kea Peters of Kakou Collective published in Uppercase Magazine Issue 57
Illustrator and owner Kea Peters is so proud to be featured in the 57th Issue of Uppercase Magazine.
"As a self taught illustrator, hand lettering artist, graphic designer, and stationery lover, its such an honor to be featured in Uppercase. To be in a magazine that is completely ad-free and run by subscription, is very validating. If you've never read Uppercase, its pure creative energy. From the moment you even look at the magazine, you know that each page was carefully and thoughtfully crafted. You can feel that each section is curated with the utmost attention to detail for the community it is made for. Each page is bursting with color, texture, and inspiration by who is featured and the art they create. Its a highly competitive magazine to land in, especially with it being the surface pattern issue. We're so happy to be mentioned alongside amazing creative individuals that specialize in text, pattern, crafting, and so much more."
UPPERCASE is a quarterly magazine for the creative and curious inspired by craft, design, typography and illustration. Published since 2009, the magazine has an enthusiastic and loyal readership of designers, illustrators, craftspeople, creative entrepreneurs and paper lovers around the world.
Featuring Kea with a lei po'o made by her kāne alongside our fan favorite Lei Punahele Washi Tape, we are honored to be chosen as one of this issues "Fresh Talent." As one of the most popular issues of Uppercase that highlights surface pattern designers like Melanie Johnsson (featured/licensed by brands like Vans, Adobe, and Anthropologie), Tara Lilly (featured/licensed by brands like Anthropology, Scholastic, and Hallmark), and Bonnie Christine (teacher to thousands of surface pattern designers, and featured in Martha Stewart, Better Homes and Gardens, Dwell, and so much more) it is exciting to be able to share not only our art but our story alongside leaders in the industry.