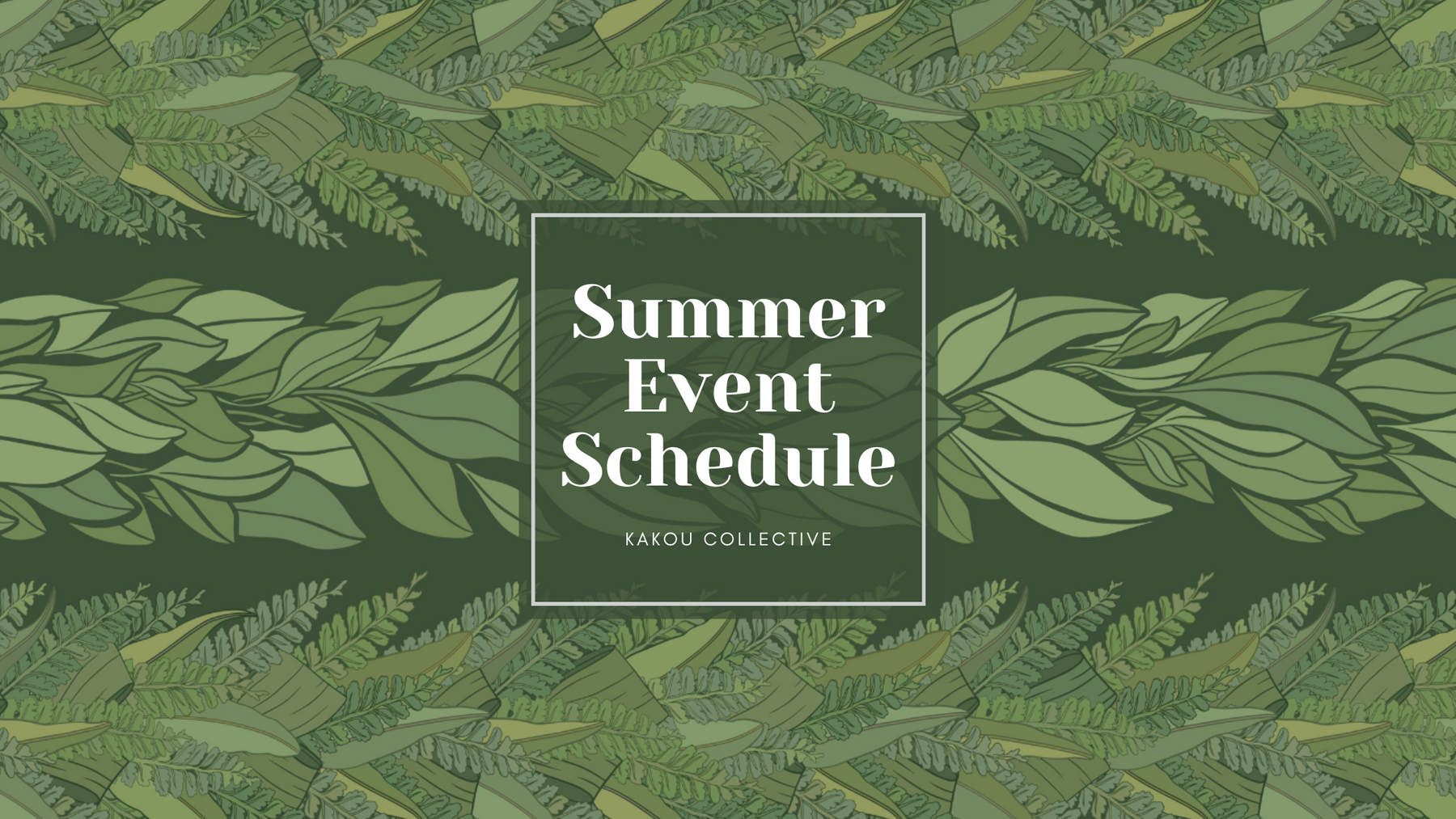 Kakou Collective Summer Events
Kauwela 2023
Summer 2023 Event Schedule (June/July)
Wednesday, June 7 | Kamehameha Alumni Week I Mua Marketplace
@ Kamehameha Kapalama | Kōnia Field | 12pm - 6pm
Kakou Collective is thrilled to take part in an alumni market where we will showcase both brand new products (like a new tote design and microfiber towels), some of our most beloved shop favorites, and our collaboration with the class of 2003.
As a proud alumna and family of Warrior supporters, we cannot wait to share our passion for pairing our authentic and original artwork with unique goods during a week that is filled with reflection and appreciation for Ke Aliʻi Pauahi. We are grateful for the opportunity to connect with our community and showcase the creativity and manaʻo that goes into every product we offer. Join us for a day of celebration, shopping, and connecting with other alumni and supporters!
This event is open to alumni, ʻohana, and the community! Entrance ticket is $10. 
Saturday, June 10 | Kamehameha Alumni Week - Alumni Lūʻau
@ Kamehameha Kapalama | Kōnia Field | 11am - 5pm
Kamehameha Alumni Week is a special time for members of the Kamehameha Schools 'ohana to come together and celebrate the legacy of our founder, Bernice Pauahi Bishop. It's a time to reflect on our shared history, reconnect with old friends and classmates, and express gratitude for the opportunities Kamehameha has provided us.
Although it is not our founders celebrating year (Kea, Class of 2007), we are so proud to celebrate alongside Kaʻiu (Class of 2003) who plays an integral role in the growth of Kakou Collective. By participating in the market place, we are proud to honor our founder's vision of empowering and uplifting the Native Hawaiian community.
This event is for alumi that have tickets to Lūʻau Night.

Saturday, July 01 - Sunday, July 02 | Hoomau Hawaii Market
@ Hawaii Convention Center | Oʻahu Ballrooms | Day 1 • 10am - 5pm | Day 2 • 10am - 4pm 
Ho'omau Hawai'i has many meanings, but the intended translation is "to perpetuate Hawai'i". Ho'omau Hawai'i Market's mission is to reclaim the Hawai'i brand for business owners who have an authentic connection to it. This event features Native-Hawaiian-owned businesses and local shops that want to use their gifts to share Hawaiian culture. Every vendor at this market must have one product that showcases Hawaiian culture in order to help others integrate our culture (and 'ōlelo Hawai'i) into their daily lives.
We fully support the mission of Ho'omau Hawai'i Market because it aligns very closely with our own: to create and share authentic artistic expression that inspire creators to connect with the cultural values, traditions, and communities of Hawaiʻi. Because we believe so strongly in this purpose, we wanted to bring something extra special to share with everyone at this event.