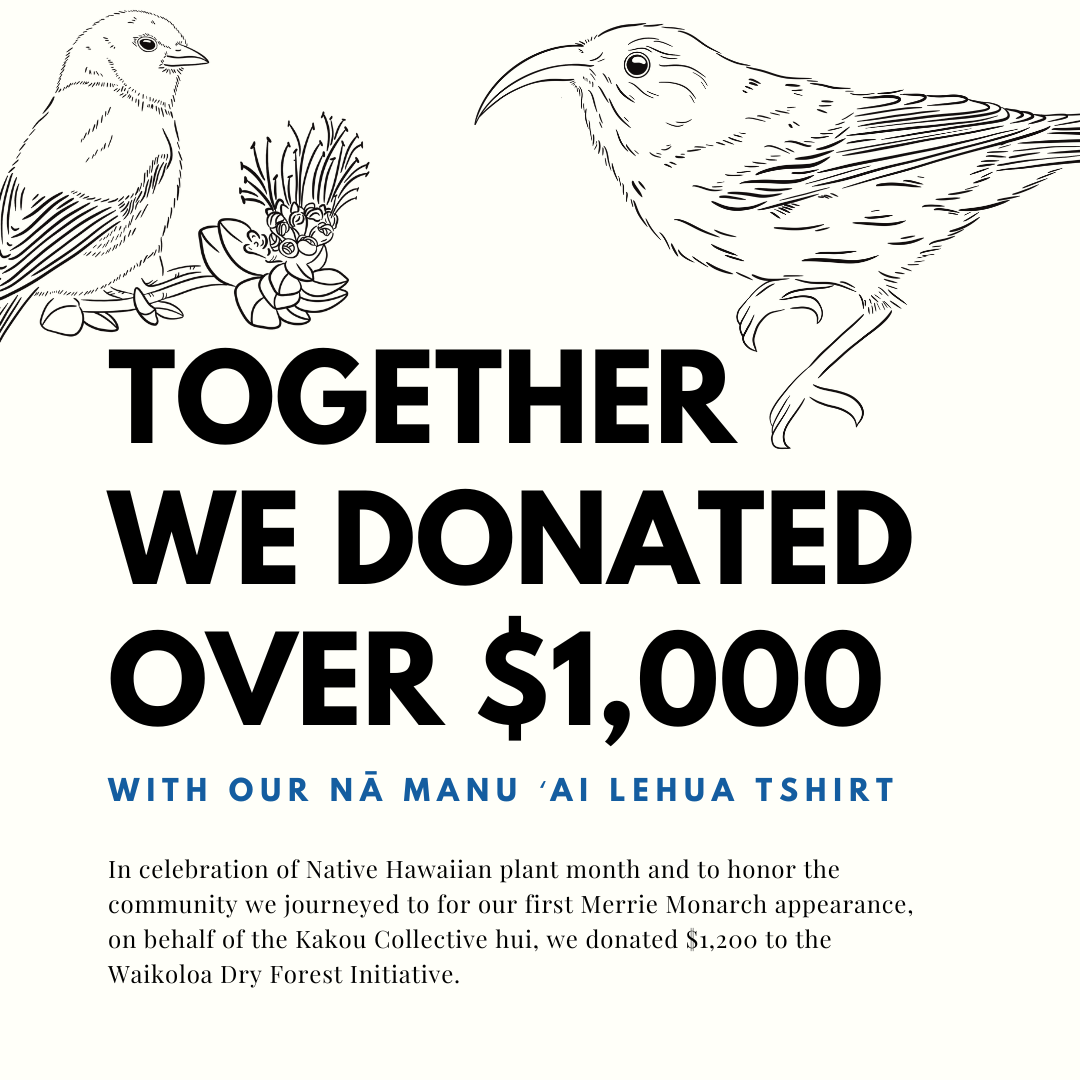 Kakou Collective donates $1,200 to the Waikoloa Dry Forest Initiative
In honor of Native Hawaiian Plant month, we created a special design and donated $1,200 on behalf of our community to the Waikoloa Dry Forest Initiative.

Why did you create this design?
I created this design because I wanted to feature our Native Birds that depend on our endemic plants and trees and I wanted to launch it specifically at Merrie Monarch. It has become the place where our fashion brands celebrate our culture through wearable art, featuring subjects that are special to the place we call home. I figured, why not a shirt and why not our native birds too? 
Why did you want to release it at Merrie Monarch?
As a Native Hawaiian small business owner, to make it to Merrie Monarch is such a wonderful milestone. I believe that it is an event that is so special to Hawai'i, and serves as a space for locals to share and perpetuate our culture through art and tradition. Logistically, its a monstrous task to not only get into one of the craft fairs, but to bring enough product and for those of us who don't live on Hawai'i island - to get it there. I figured if this is the one time we go to Merrie Monarch (which I'm hoping it isn't), I'm going to do it in a way that will serve our community and future generations.
Why did you choose the Waikoloa Dry Forest Initiative?
I wanted to mahalo the place that we were visiting because I believe in leaving a place better than we found it. As we've learned more about Native Plants, we've come across amazing non-profits that do wonderful things and we felt that the Waikoloa Dry Forest Initiative would be a perfect fit especially because it is located on Hawai'i island and because of what they do for our endemic species.