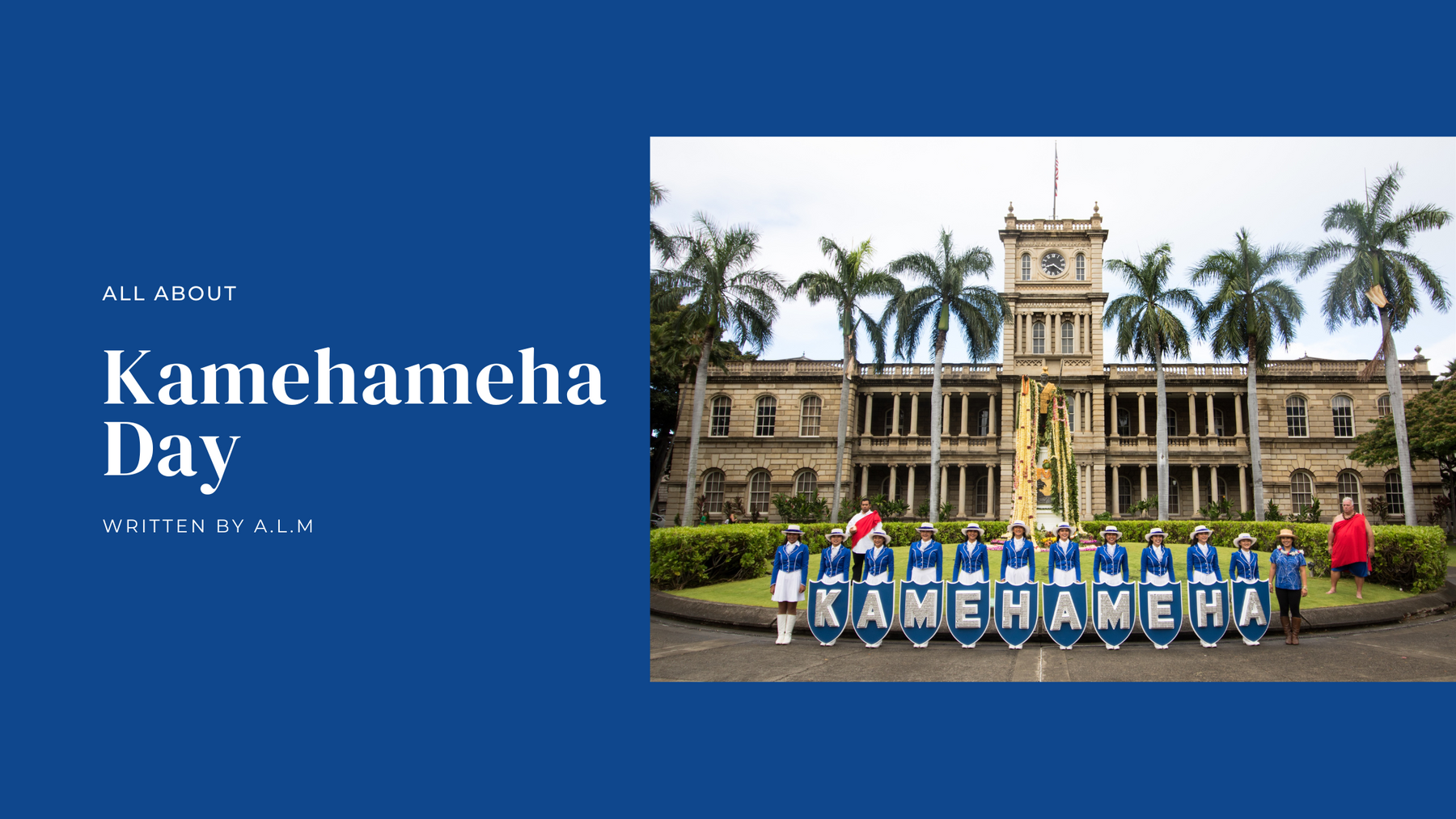 History of Lā Kamehameha (Kamehameha Day)
Hauʻoli i ke Kauwela! (Happy Summer!) Geez where is this year going? We are officially in Ka Mahina o Iune (the month of June) and we're kicking it off with a dive into the history behind the upcoming holiday - Lā Kamehameha!
Lā Kamehameha, or Kamehameha Day, is a State Holiday celebrated on June 11 every year. This year, since June 11 is a Sunday, it will be observed on June 12. This day celebrates Kamehameha the Great, Hawaii's first king who united the islands in 1810 after years of
conflict.
The holiday was created by King Kamehameha V, Kamehameha the First's great-grandson, waaaay back in 1872. The first Lā Kamehameha celebrations featured horse racing, but soon festivities evolved to include parades with floats and pāʻū riders (women on horseback).
Today, Lā Kamehameha is celebrated on every island across the state with the ceremonial draping of magnificently long lei on Kamehameha statues, festivals with Hawaiian music and hula, and parades. The largest celebration is held on Oahu. It often starts with a Sunday service at Kawaiahaʻo Church, followed by the Annual King Kamehameha Celebration Floral Parade, and ends with a festival at Kapiʻolani Park.
The King Kamehameha Celebration Floral Parade is awesome! There are local marching bands and huge floats decked out in flowers. If you can check it out, you should! In fact, if you're there this year, keep an eye out for the Kamehameha Schools "Warrior" Marching Band and Color Guard. Our founder and illustrator, Kea Peters, has been teaching the marching band since 2007. Kea played flute in the band while she was at school, has volunteered with the performing arts department since her graduation, and has marched with the band in years past during the Kamehameha Day parade!
There's some speculation as to why Kamehameha V chose June 11 to celebrate his great- grandfather. Some believe that the first Kamehameha Day was supposed to be held on Kamehameha V's own birthday, December 11, but that it was later changed to June 11 because the weather was better in the summer. Others say that it was Kamehameha V's supporters who initially pushed for the holiday to be on his birthday, not him. In an effort to keep the focus on celebrating Hawaii's first sovereign leader, the humble king pushed the date to the furthest possible option away from his own birthday, and that's why it landed in June.
So which is it? Who knows! Either way, neither December 11 nor June 11 have any significance to the man of the hour, Kamehameha the Great, whose birthdate was likely sometime in November of 1758. In fact, King Kamehameha I's birthday was a pretty special event! It's
believed he was born around the time that Haley's Comet shot through the sky. Hawaiians thought this strange astrological spectacle signified the coming of a great chief, and boy were they right! Because of this, Kamehameha was hidden away immediately after his birth. He spent his early years secluded in Waipiʻo, a measure taken to protect him from opposing clans who saw him as a potential threat.
When he was five, he returned to Kailua-Kona on the Big Island. His uncle, King Kalaniʻōpuʻu'u, began training Kamehameha to become an aliʻi ʻai moku (a district chief). Legend has it that Kamehameha was so strong, he could lift the Naha Stone, which weighs 2.5 tons! Fun fact: apparently there was a prophecy stating that the man who would one day unite the islands would be able to lift the stone! Pretty nuts!
Kamehameha trained hard and became a great warrior. On his deathbed, King Kalaniʻōpuʻu divvyed his domain between his son, Kīwalaʻō, and his nephew, Kamehameha. As Kalaniʻōpuʻu's heir, Kīwalaʻō was given control of the land, but the King entrusted the war god, Kūkāʻilimoku, to Kamehameha. As the former king's eldest son, Kīwalaʻō had a clear right to the throne, however the fact that Kamehameha had inherited Kūkāʻilimoku gave him a strong incentive to seek further power.
And seek he did! Over the years, Kamehameha waged war against Kīwalaʻō, and eventually took control of the Big Island following the death of Kīwalaʻō. But he didn't stop there! He joined with several foreign allies and in doing so, became a dominant military force. After years of battle, Kamehameha the First united all the Hawaiian Islands, thus fulfilling the prophecy of his birth and accomplishing what no chief in the history of the Hawaiian people had ever been able to do. By unifying the islands under one throne, the Hawaiian Kingdom became a recognized entity, and gave Hawaiian people a voice and security in a rapidly changing world.
So there you have it! Hopefully you've learned a little something about the great warrior we celebrate each June. This Kamehameha Day is also extra special to us here at Kakou Collective because it marks the one-year anniversary of our art installation at the Royal Hawaiian Center in Waikīkī! As a Native Hawaiian-owned business, it means so much to us to have our art in a space that has become so touristy. In Waīkikī, a place which often prizes the false-Hawaiian
esthetic of pineapples and pina coladas, it feels significant to have reclaimed some of the authenticity of our local culture. If you find yourself down there, check out our mural while it's still up!
Aloha Lā Kamehameha!
(Click here for more information about this year's Lā Kamehameha celebration near you)
A hui hou! (Until next time)
Mahalo for the resources used for this article:1. "Kamehameha the Great." National Parks Service, 27 Apr. 2023,www.nps.gov/puhe/learn/historyculture/kamehameha.htm.
"King Kamehameha Celebration Commission." Hawai'i State Foundation on Culture and the Arts, sfca.hawaii.gov/resources/king-kamehameha-celebration-commission/. Accessed 5 June 2023.
"King Kamehameha Day – June 11, 2023." National Today, 11 June 2021, nationaltoday.com/king-kamehameha-day/. 
Lagaso, Nadine. The History and Evolution of Kamehameha Day, 8 June 2020, www.ksbe.edu/article/the-history-and-evolution-of-kamehameha-day.
Murphy, Bryan. The History of King Kamehameha Day in Hawaii, 11 June 2021, hawaiisbesttravel.com/king-kamehameha-day/.
Young, Peter  T. La Ho'o-Mana'o O Kamehameha I, 11 June 2016, imagesofoldhawaii.com/king-kamehameha-i-day/.