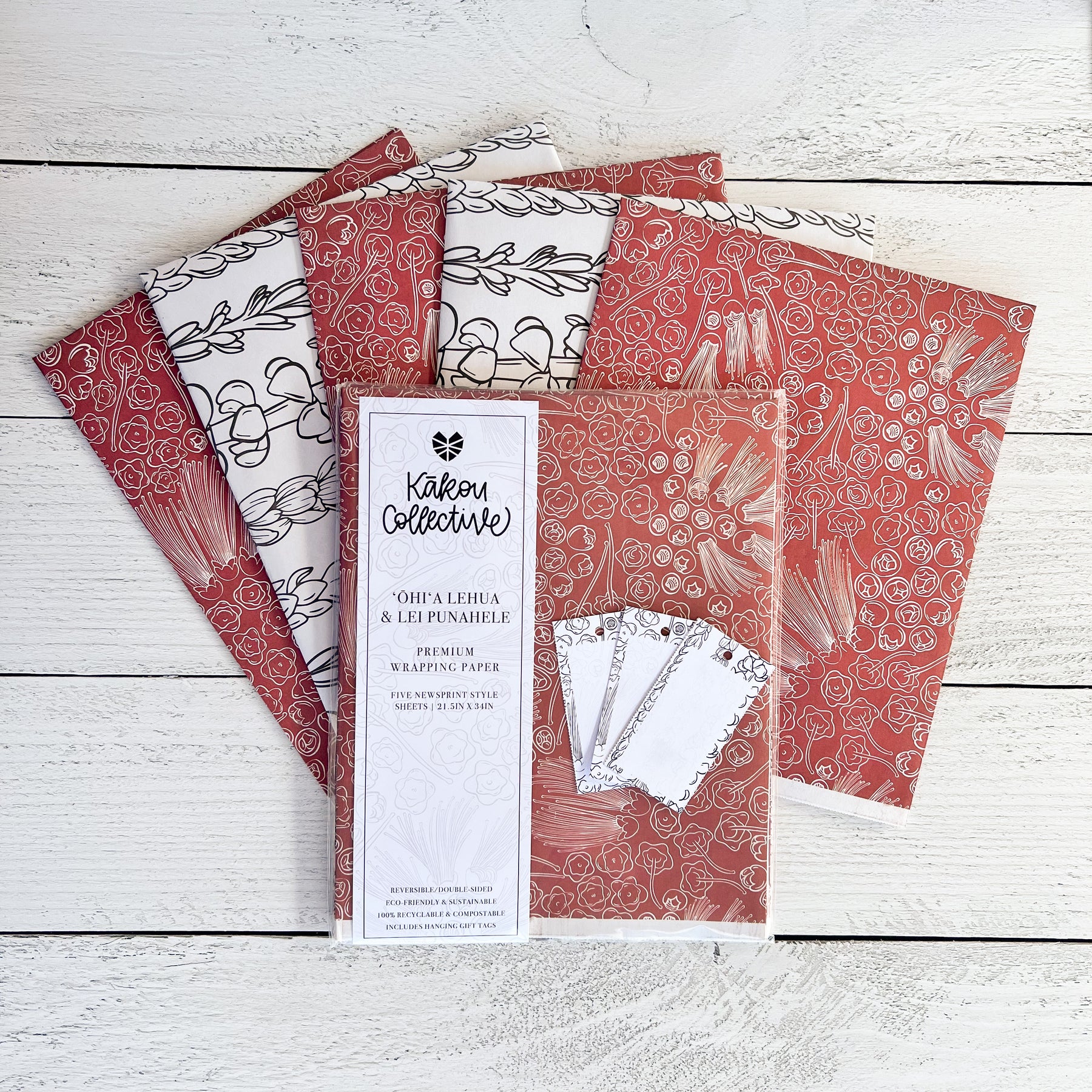 Eco-Friendly Gift Wrapping
ECO-FRIENDLY GIFT WRAPPING
It's the holiday season! Whether you're the kind of person that makes your gifts, finishes all your shopping in July, or waits until the very last second, something that may not be on your radar right now is the kind of wrapping you might choose when distributing your lovely packages.
Did you know that most wrapping paper cannot be recycled? Wrapping paper is often made from a blend of paper and plastic, which makes it incompatible with recycling processes. Not only is it very rarely recyclable, but it's also not typically made with recycled materials in the first place.
Part of our goal at Kākou Collective is to mālama 'āina (care for the land) as we continue to create products that showcase our beautiful lā'au Hawai'i (Hawaiian plants). So, we made our own wrapping supplies!
Our wrapping paper is plastic free, 100% recyclable, and made with recycled newsprint. It features double-sided prints, showcasing our lei punahele (favorite lei) on one side and ke ola o ka lehua (the life of the lehua) on the other. Learn more about the lifecycle of lehua by reading a blog from the creator! Each package of wrapping paper also comes with matching gift tags so that you can write a note to the lucky recipient.
Our tissue paper is printed with soy-based ink on 30% recycled paper (the other 70% is made with new, acid-free pulp). This tissue paper also features our lei punahele because everyone deserves a little pikake, pua kenikeni, and pakalana in their lives.
Come visit us at Made In Hawaii this weekend (Nov 11 - 13, 2022) as we kick off this holiday season! We can't wait to see you there. A hui hou! (Until we meet again.)