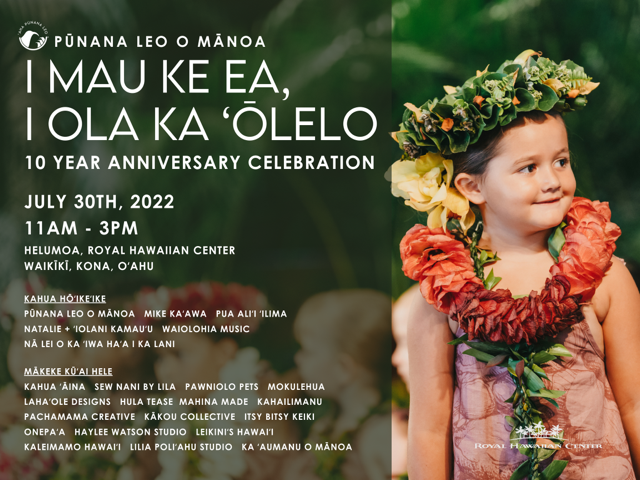 Come and celebrate the 10 year anniversary of ʻAha Pūnana Leo ʻO Mānoa with us
Kākou Collective is participating in the 10 year anniversary celebration of ʻAha Pūnana Leo ʻO Mānoa, an organization dedicated to perpetuating the Hawaiian language and culture through education and immersion programs in the heart of Mānoa. The event is a wonderful opportunity to honor the achievements of this beautiful school, their kumu, the ʻohana and keiki, and highlight the importance of preserving indigenous languages and traditions. Kākou Collective is proud to be a part of this milestone celebration and looks forward to continuing to support the mission of ʻAha Pūnana Leo in the years to come.
Read about our donation of two scholarships to Ka ʻAumanu ʻo Manoa
Come and celebrate with us at Royal Hawaiian Center! Shop from various Native Hawaiian owned businesses that perpetuate local culture and ʻŌlelo Hawaiʻi through their product and business values.