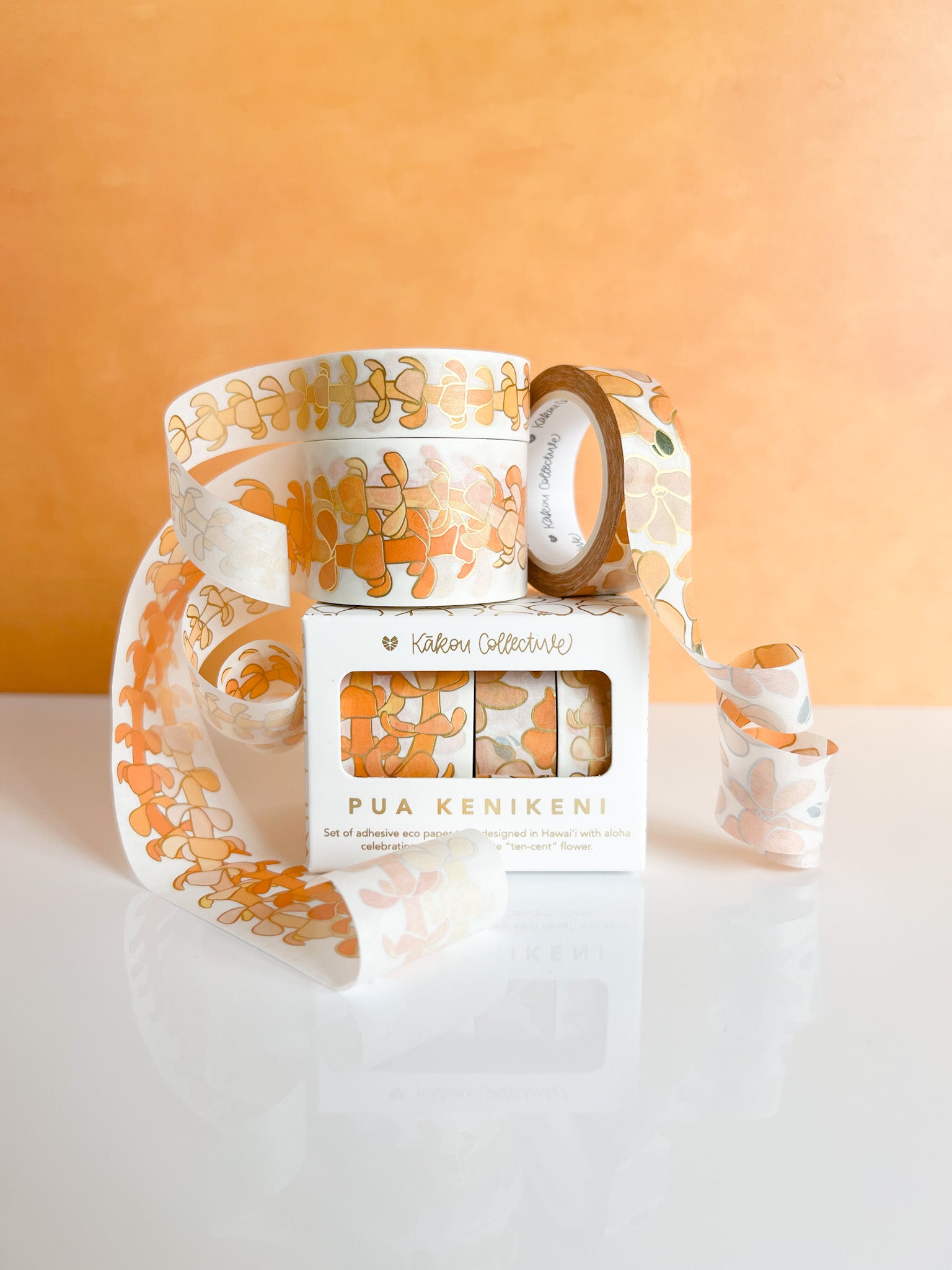 Puakenikeni Washi Tape Box - Expanding our first collection
When I first started creating washi tape, I was so excited about having a sustainable product for our shop that incorporated this beloved local flower (which is my husbands pua Punahele [favorite flower]. As a self proclaimed stationery addict (with the stationery collection to prove it), making my very own washi tape was bucket list item for me, and it was an added bonus that I was making lei for someone so special to me.
But as we went through our process of turning our art into a product, we learned that we had to protect the individual rolls of washi tape with a plastic shrink wrap. At that point in 2020, this was the biggest investment in my business that I had ever made (aside from my Glowforge). I was unable to create something better because that is just where I was at in my business journey.
I was trying to incorporate our art onto something fun, functional, and eco friendly, and I kept that in mind and gave it a go. I'm so glad we did because all of our rolls sold out in 4 minutes and that kickstarted our washi tape journey.
Design Challenge - expanding our first collection
Fast forward to 2022 and several washi collections (and washi boxes) later, I was setting my personal challenges for the year and decided it was time to turn this beloved collection into a box set. Washi Box Sets are so much more eco friendly as there is no plastic packaging, and no sticker label. Also, because there are multiple washi tape in the box, in regards to shipping it is a tad bit more efficient with space [and therefore decreasing our carbon footprint - read about how we offset our carbon emissions here].
In regards to design, I wanted to create something that was reminiscent of the original collection as well as the second release, yet new and something our customers wouldn't feel was the exact same. Lastly, I wanted capture something I hadn't in the previous collections that Puakenikeni is known for - variation in color (and therefore scent).
Enter, our newest washi box set:
Design Challenge - Size 
I figured that we were pushing the envelope, and I didn't want to repeat the same lei twice in one Washi Box Set - so we went with the ever popular twisted style lei. Because of the type of lei, fitting this onto a 15mm standard size roll was not an option, so we challenged ourselves to go with the biggest size we have yet to date: 30mm - our original collection had a 25mm roll so this was a big change up (5mm may not seem like a lot but in the world of washi it definitely is).
I am so proud of how this collection turned out. The 30mm roll [above, far left] although large, is definitely a statement piece for the true Puakenikeni lei lovers. 
Design Challenge - Pua (Flower)
Our newest 15mm Puakenikeni Pua [Right] was definitely the most challenging, so we made it a slightly different color variation with a bit more dimension from the original [Left].
Design Challenge - Lei
Lastly, the lei. This by far was most challenging because connecting this in a repeat was a situation to say the least. Although we've done it before [2020 Release - Left] In order to check off the challenge of incorporating the variation of color in the flower, the design twist of doing an ombre lei was interesting but in the end we pulled it off. Now our newest lei shows the transformation of the Pua in vertical form [New - Right] going from light to dark and repeating over and over again for a 10m lei:
Mission accomplished?
I'm in love with this box set. From the minute I opened the box, I knew it was something special. From the gold details on the box, to the way the tapes look as if they are straight off the shrub and into a lei. Yes, we have several individual puakenikeni washi tapes already, but this set is dedicated to the puakenikeni lovers that are no strangers to the details of this flower and love to have variation in their incorporation of washi tapes.