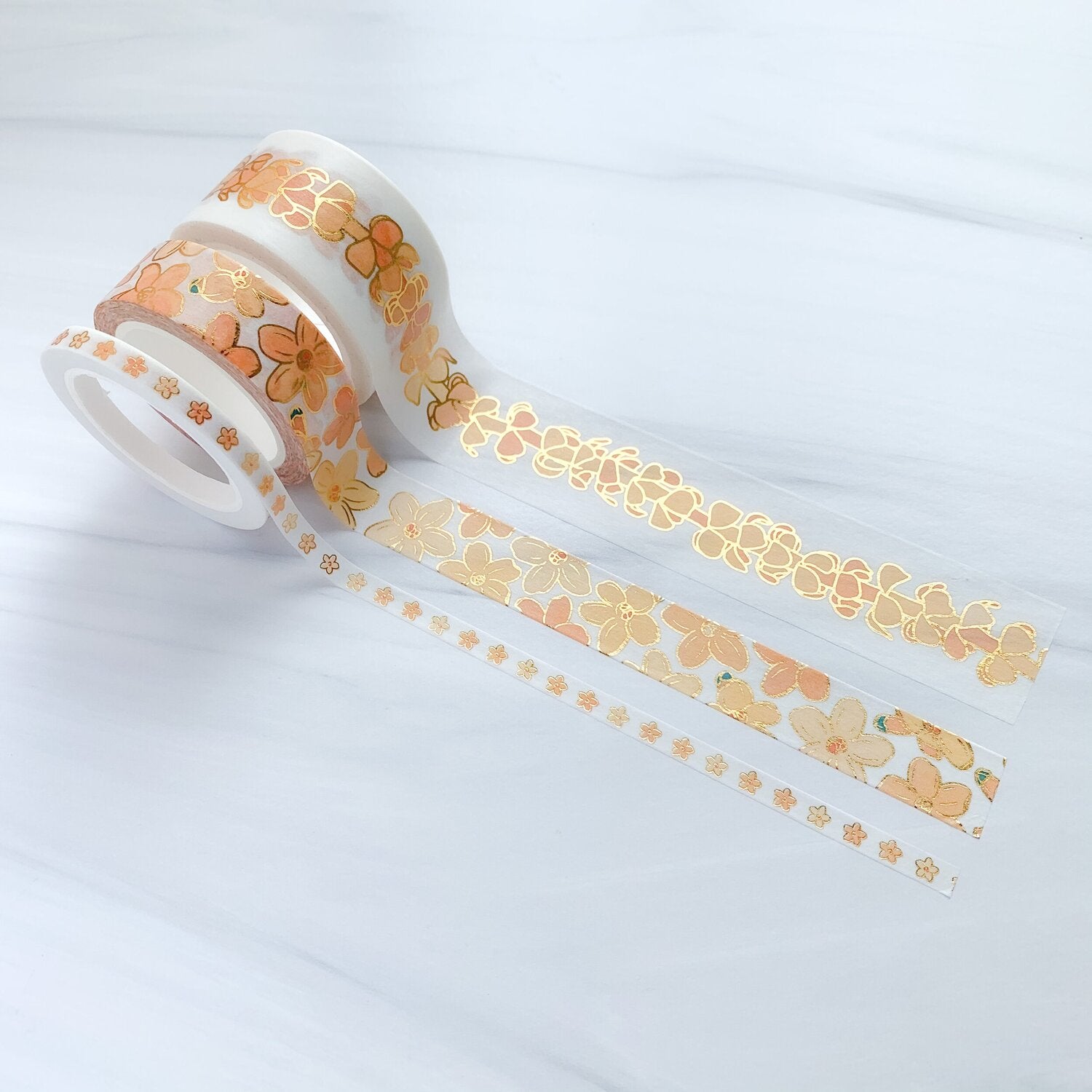 Puakenikeni Washi 2020 Restock
Aloha Kākou,
Mahalo Piha! There truly are not enough mahalos in the world to express our gratitude. The response to this collection was so overwhelmingly positive and we are so humbled by and grateful for your support. Truthfully, we were unprepared for the response and recognize that we didn't order enough. Many have told us that its a great thing - and as a business we agree, however as a stationery addict that has missed out on special releases - I personally feel for everyone that was not able to get their hands on our first ever washi.
What we learned
From this release, we learned a lot. We cannot express how valuable feedback has been and because of the beautiful conversations we've had in our direct messages, emails, and comments, we are most definitely bringing this design back. We also recognize our communities love for this local favorite flower as well as our communities want to see more mea Hawai'i on stationery so you can expect to see other washi designs.
At the end of the day we are so grateful. Mahalo for your support in amplifying our creative voice and for giving us the opportunity to shine a light on authentic local plants like Puakenikeni. Please feel free to read the FAQs and if we missed anything please email us.
Me ke aloha,
Kea
FAQ's
Is there any way we can get our hands on this set? Don't you have back stash? Can we buy from your mom, she must have gotten five of each"?
When we prep our washi, we divide it as follows:
80% of the washi will go into our shop,
*this total is divided 50/50 - 50% of the stock is uploaded for our Patrons on Friday at 10:30am, the other 50% is uploaded when the shop opens on Saturday at 10:30am to guarantee that some stock is available for the rest of our hui that don't have early Patreon access
5% of the washi goes to samples (you can find some of these in our Patreon kits as well as future grab bags),
5% of the washi is held for personal stash and marketing (these are honestly the damaged/defect rolls), and the final
10% is for donations and special events.
So the answer is yes, we do have back stash, but #sorrynotsorry they are already accounted for. Also, we only gave mom one set and you can bet she's not giving that up for anyone (not even for Rogue).
The only other way you will be able to get your hands on the washi that came from our July 2020 release is through community run events and grab bags.
Donations: We just recently donated one of these sets to @aloha4kalamaohana , another is going to @okaa_san for her Instagram Auction fundraiser, and another will be donated to @auction4hikuroaohana.
When will you be restocking?
Due to the uncertainty of shipping during the COVID-19 pandemic, we will not be announcing final dates until our product is in-hand. We can say with certainty that we will be restocking this collection in our shop between September 2020 and January 2021. We will also be increasing the amount we are bringing in so that we can hopefully make it available for wholesale.
Will you consider wholesaling?
So long as the business that is asking is in alignment with our company values and vision, and have the proper licensing, we will most definitely wholesale. Should you be interested in carrying this washi in your shop, please contact us so that we can account for your needs.
Why donate when you can sell?
We love to donate just because we truly do believe in our community. So taking into account the fact that we know we're going to want to do it, we built that into our process to ensure we weren't taking away from the other pieces of the pie (that are very necessary).
Are you going to do presales?
We're a growing business (keep in mind we opened shop in April of 2020) and have a lot to learn. Pre-Sales are something that we will look into as it will affect many things within our business that we want to get more familiar with before adding in something new.
Are you coming out with other washi?
Oh you bet. We have a new design being released in August of 2020! Follow us on Instagram to get the latest and greatest, or support us on Patreon to get sneak peeks and early access to our sales.