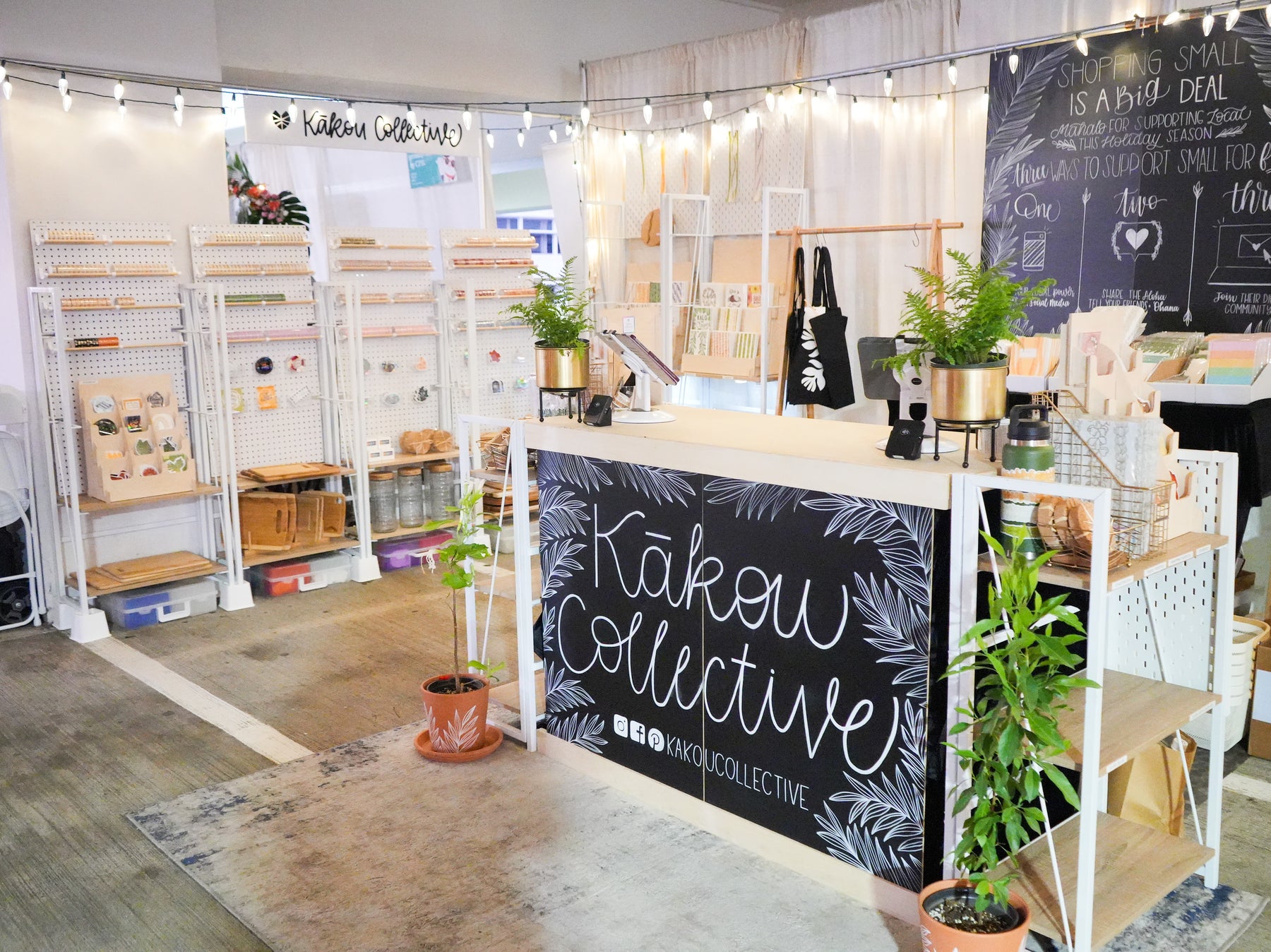 Products Launched at Made In Hawaii
PRODUCTS LAUNCHED AT MADE IN HAWAII
That's a wrap! Thank you to everyone who visited us at Made In Hawaii 2022. We got to connect with both first-time patrons and long-time supporters over the course of the weekend, all while contributing to the small business community in Hawai'i. We love participating in events that shine a light on our local entrepreneurs and we're elated that so many of you continue to shop small. Mahalo piha (our fullest gratitude) for your continued support.
We brought a few new products to Made In Hawaii that we want to share with all of you!
Lei Kī Lifestyle Products
We announced these products on our blog last month and they're finally out in the wild! Some of our lei kī glass jar lids and charcuterie boards found happy homes during Made In Hawaii, but we expect them to be a staple at Kākou Collective events going forward.
'Ilima and Hanohano Stationery
We chose to highlight ka pua 'ilima (the 'ilima flower) for the month of October to get us into the festive fall spirit. 'Ilima is endemic to our islands and bears flowers in either green, red, yellow, or the vibrant orange most commonly found in lei. 'Ilima is the island flower of O'ahu and holds much significance for those from the island.
Lei 'ilima are notoriously difficult to make. Each bloom is paper thin and only lasts for one day. They need to be picked and immediately placed in a cool, damp environment to preserve the flower long enough to be sewn into a lei kui (lei made by piercing foliage with a needle and thread). Lei practitioners need to move very quickly to string together an entire lei of these delicate flowers before they wilt and it could easily take 1,000 blooms to make a full lei. Recipients of a lei 'ilima should feel honored to receive such a precious gift, which is why hanohano is the perfect lei to showcase as we enter the season of giving.
We now have lei 'ilima and hanohano stationery products! We have notebooks, notepads, note cards, and stickers with our lei 'ilima and hanohano design, which features our endemic lei 'ilima entwined with one of our hui's favorites, lei pikake.

We highlighted two endemic lā'au (plants) in our November newsletter: 'iliahi and 'õhi'a lehua in both its liko and 'õpu'u budding stages. We have many products that feature the 'õhi'a lehua in its various life stages, but we wanted to focus specifically on the 'ōpu'u buds for our newest addition to the stationery lineup. These notepads and notebooks evoke a bit of holiday spirit in a way that stays true to our goal of sharing the beauty of nā lā'au Hawai'i through our products.
While the stationery products will come to our online shop, our lifestyle products are exclusively available at in-person events. Come visit us at one of our many events throughout the holiday season, including Ho'omau Hawai'i on December 10-11th at the Hawaii Convention Center!