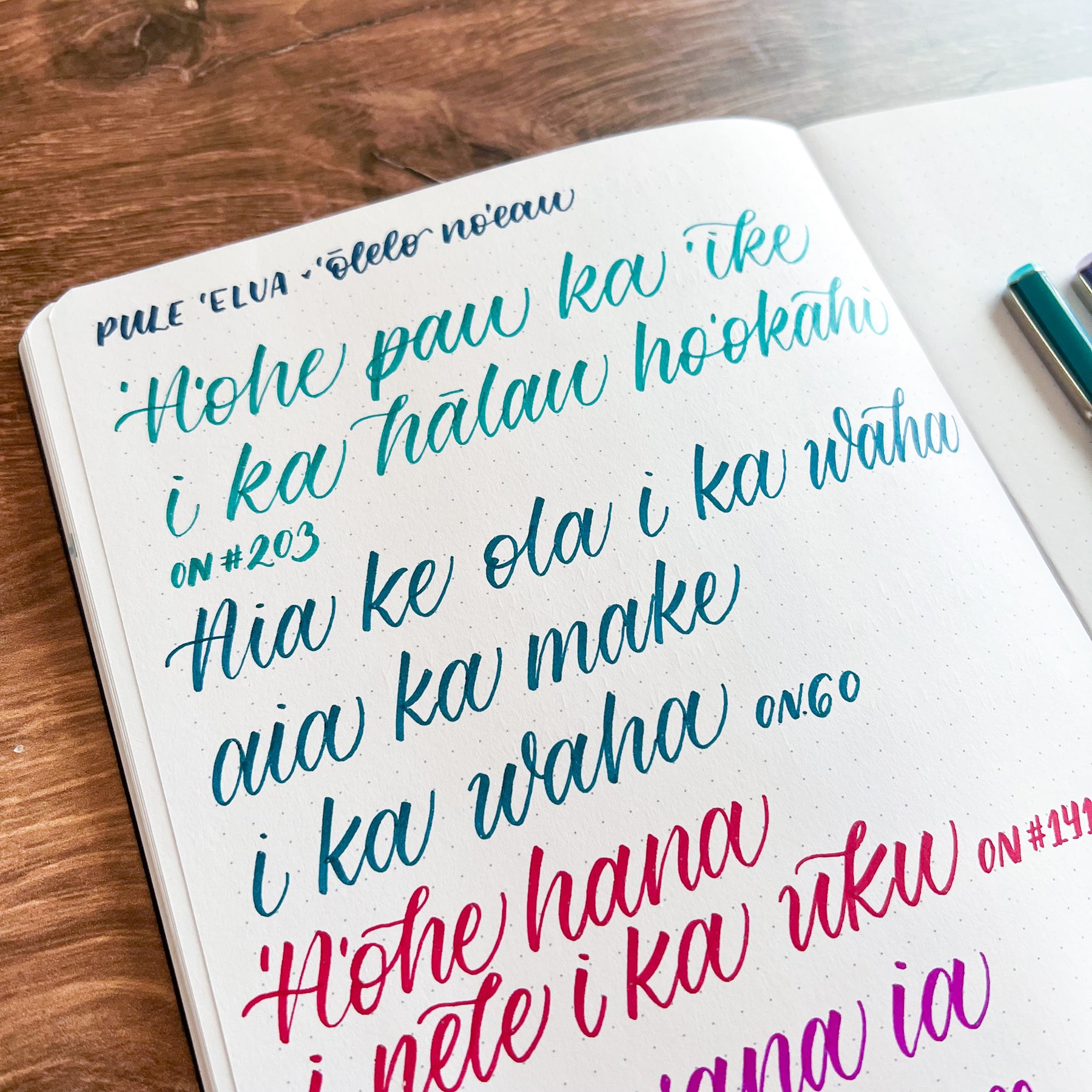 Mahina ʻŌlelo Hawaiʻi Pule ʻElua
Pule ʻElua | Week Two (Pepeluali 06 - Pepeluali 12)
For the second week of Mahina ʻŌlelo Hawaiʻi, letter one ʻōlelo noʻeau that resonates with you every day. For those of you participating in our hand lettering classes on Fridays, I challenge you to letter to practice technique - remember to lift after every stroke.
If you are interested in lettering, its not too late to hop on the list. Join here to sign up for resources and class reminders. 
This week, we will be giving away a notepad set (This giveaway is not associated with instagram - the winner will be contacted directly from @kakoucollective and will not be contacted through or by any other accounts. Please do not share any personal information.) Donʻt forget to participate with us in the comments of our Instagram or tagging us showing how youʻre incorporating ʻōlelo noʻeau into your week for a chance to win!
We will be randomly selecting a winner that participates at the end of each week in Mahina ʻŌlelo Hawaiʻi 2022. The more you participate, the more chances you have of us randomly selecting you. 
ʻŌlelo Noʻeau List
I realize that not everyone may have access to ʻŌlelo Noʻeau (ʻŌlelo Noʻeau are traditional/wise sayings or proverbs of the Hawaiian people). Here is a list of ʻŌlelo Noʻeau that are currently on our inspiration list:
ʻAʻohe pau ka ʻike i ka hālau hoʻokahi. #203
All knowledge is not taught in the same school.
[One can learn from many sources.]
Aia ke ola i ka waha; aia ka make i ka waha. #60
Life is in the mouth; death is in the mouth.
[Spoken words can enliven, spoken words can destroy.]
ʻAʻohe hana i nele i ka uku. #141
No deed lacks a reward.
[Every deed, good or bad, receives its just reward.]
He ʻike ʻana ia i ka pono. #620
It is a recognizing of the right thing.
[One has seen the right thing to do and has done it.]
E ʻōpū aliʻi. #369
Have the heart of a chief.
[Have the kindness, generosity and even temper of a chief.]
He pūnāwai kahe wale ke aloha. #936
Love is a spring that flows freely.
[Love is without bounds and exists for all.]
E ʻoluʻolu i ka mea i loaʻa. #367 
Be contented with what one has.
ʻAʻohe hana nui ke alu ʻia. #142
No task is too big when done together by all.
ʻAʻohe ʻulu e loaʻa i ka pōkole o ka lou. #213
No breadfruit can be reached when the picking stick is too short.
[There is no success without preparation.]
E pūpūkahi. #376
Be of one clump.
[Be united in thought.]
Source: Pukui, M. K. (1983). 'Ōlelo No'eau Hawaiian Proverbs & Poetical Sayings. Honolulu, Hawaii: Bishop Museum Press.