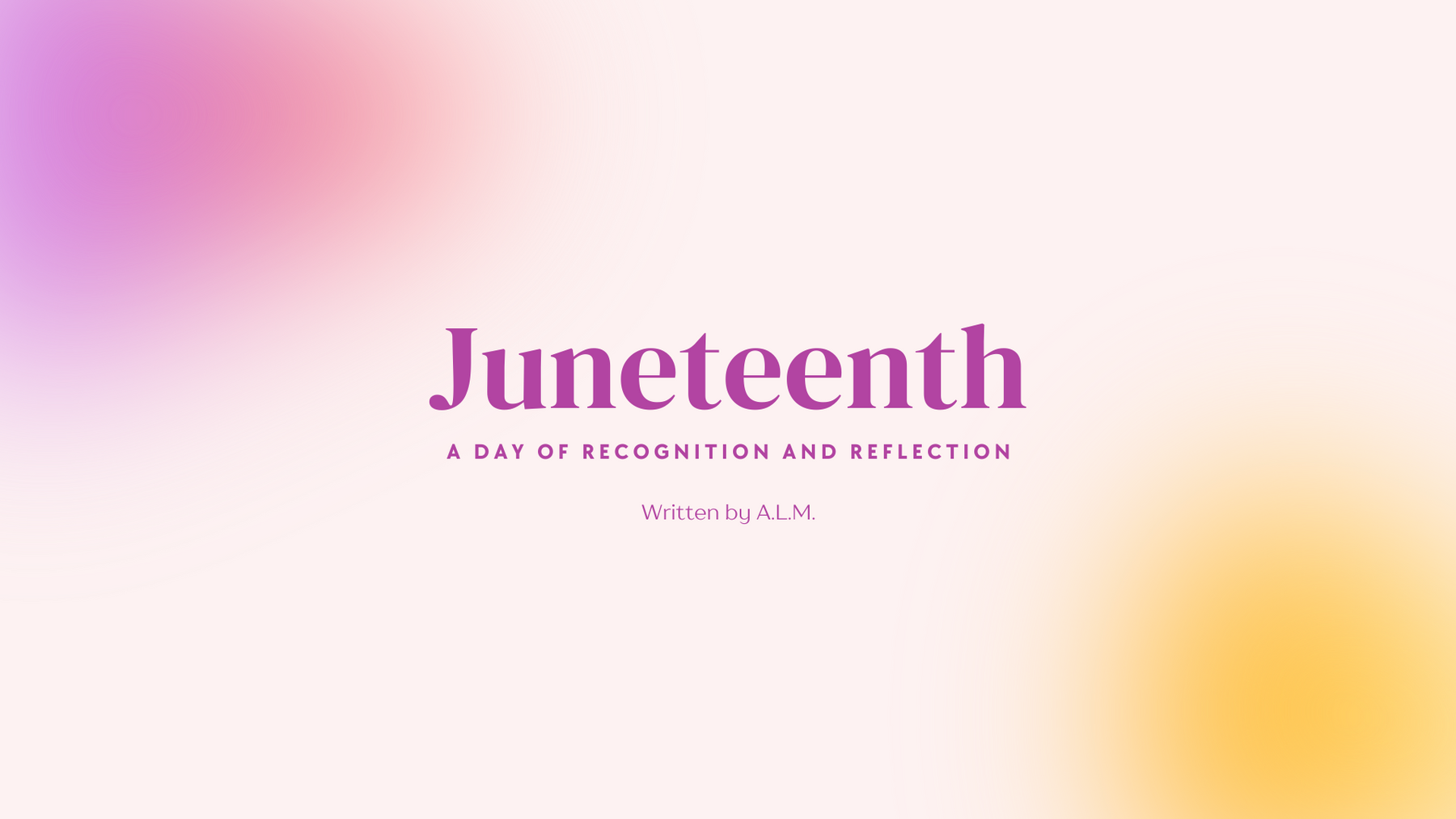 Juneteenth - A day of recognition and reflection
Aloha and Happy Juneteenth!
If you've just learned about this holiday in recent years, you're not alone. Juneteenth is one of the newest holidays to be officially observed, although it's been a significant day since 1865! It's an extremely important event that has only recently gained recognition, so we thought we'd shed some light on the history behind this holiday.
So we've all heard of the Emancipation Proclamation…right? Ok, if you need a quick history refresher, in the third year of the Civil War, on January 1, 1863, President Abraham Lincoln issued the Emancipation Proclamation. This document declared that any slaves in rebellious states were free. This was huge! But sadly, since the war was ongoing and there were several states still under Confederate rule, this didn't mean all enslaved people immediately became free.
It wasn't for another two-and-a-half years that the enslaved people of Galveston, Texas were freed. Slaveholders in Texas withheld the news of the Emancipation Proclamation, continuing to exploit enslaved African-Americans until June in 1865, when Union troops arrived in Galveston to enforce the decree.
The following year, a commemoration recognizing freedom from slavery was held in Texas. The name, 'Juneteenth,' is short for the historical date of 'June Nineteenth.' The first Juneteenth festivities included family cookouts, religious services, music, and celebration of the end of slavery. Though this holiday was originally created and celebrated in Texas, African-Americans spread the tradition wherever they went. It's considered the longest running African-American holiday and is sometimes also called 'America's Second Independence Day.'
In 1980, Al Edwards, a state legislator, pushed Texas to become the first state to officially recognize Juneteenth as a holiday. Edwards continued to advocate for the observance of Juneteenth across all of America. In 2016, Opal Lee, an 89-year-old activist, walked 1,400 miles from Fort Worth, Texas to Washington, D.C. to get Juneteenth recognized as a national holiday. Finally, on June 17, 2021, President Biden made Juneteenth an official federal holiday.
Today, Juneteenth is still a day of celebration. Much like the first Juneteenth, modern festivities include family get-togethers, delicious food, music, and faith services. It is a celebration of resilience and achievement. However, one of the most important aspects of the holiday is that it's a time to reflect on the violent and unjust history of racism in America. It is an opportunity to educate ourselves about the history of slavery, and reflect on its lingering effects in our nation.
Though the official observance of Juneteenth as a holiday offers some well-deserved recognition for the Black community, it's also a message of hope for all marginalized groups. This holiday celebrates that situations can change for oppressed people, and that there's a possibility for them to change for the better through social justice efforts.
We hope you learned a little something about Juneteenth! For further explorations on race, specifically here in Hawaii, check out The Pōpolo Project! This nonprofit hosts a number of educational opportunities to deepen knowledge and understanding of Black history and culture, with specific focus to what it means to be Black in Hawaii.
A hui hou! (Until next time)
Mahalo to the resources used in this article:
1. Gates, Henry Louis. "What Is Juneteenth?" PBS, 19 Sept. 2013, www.pbs.org/wnet/african-americans-many-rivers-to-cross/history/what-is-juneteenth/. 

2. Hackett, Doreleena Sammons. "What Is June 19th or 'Juneteenth' and Why Is It so Important?" Society for Public Health Education, 15 June 2022, www.sophe.org/news/juneteenth-why-is-it-important/. 

3. Hofschneider, Anita. "Why Juneteenth Is A Complicated Holiday For Hawaii's Black Community." Honolulu Civil Beat, 21 June 2021, www.civilbeat.org/2021/06/why-juneteenth-is-a-complicated-holiday-for-hawaiis-black-community/#:~:text="The%20Kingdom%20of%20Hawaii%20expressly,another%20country%2C"%20Glenn%20said. 

4. "Juneteenth." National Museum of African American History and Culture, 2 June 2023, nmaahc.si.edu/juneteenth#Today. 

5. Nix, Elizabeth. "What Is Juneteenth?" History.Com, 12 June 2023, www.history.com/news/what-is-juneteenth. 

6. "The Emancipation Proclamation." National Archives and Records Administration, 28 Jan. 2022, www.archives.gov/exhibits/featured-documents/emancipation-proclamation. 

7. "The Historical Legacy of Juneteenth." National Museum of African American History and Culture, 1 June 2023, nmaahc.si.edu/explore/stories/historical-legacy-juneteenth.