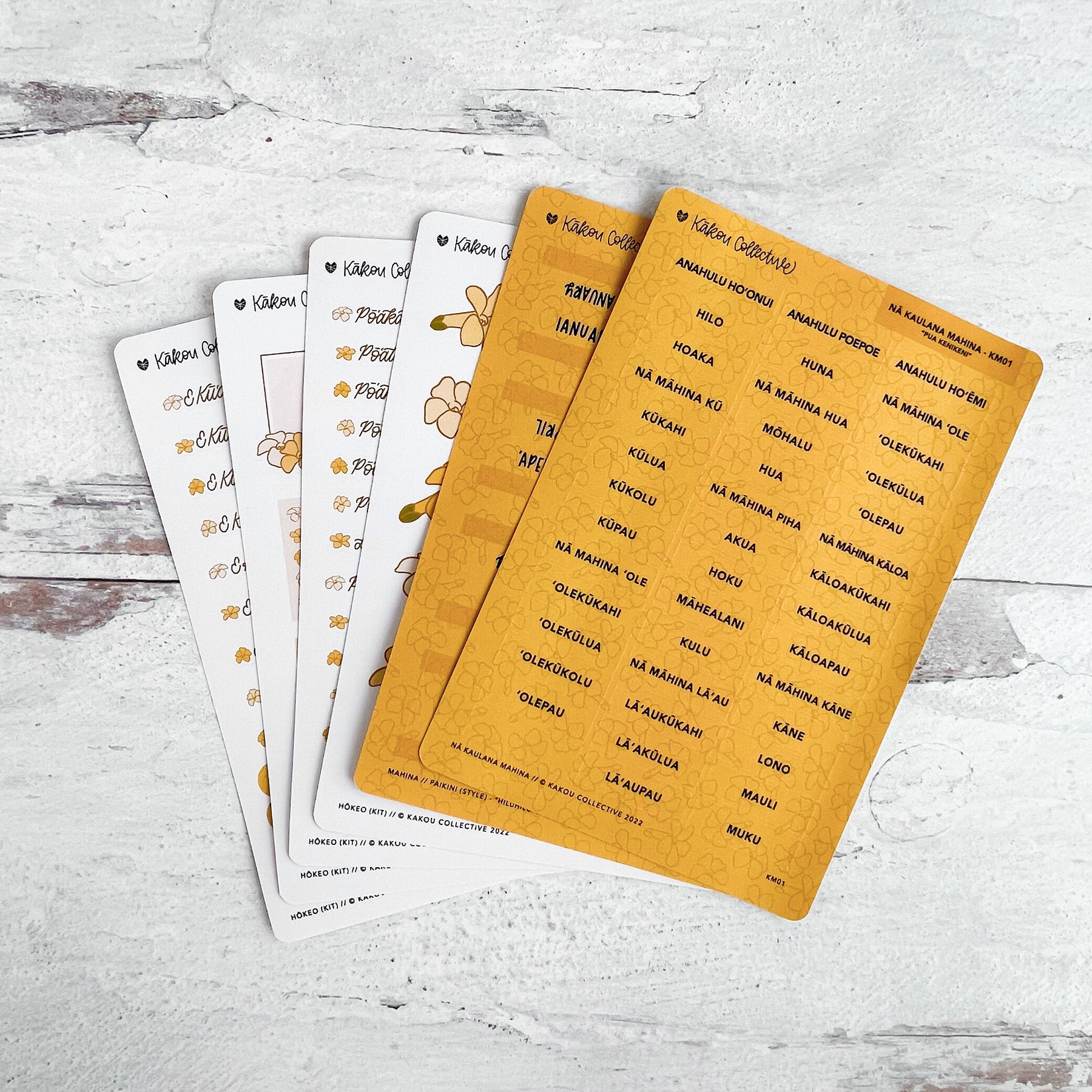 Incorporating ʻŌlelo Hawaiʻi - As a non-native speaker
As a non-Hawaiian speaking Native Hawaiian, let me be the first to be completely transparent and say that sometimes itʻs uncomfortable to incorporate ʻŌlelo Hawaiʻi into our product. I have some moments where I feel like Iʻm not Hawaiian enough and I have no right to incorporate our mother tongue into items that eventually I will profit off of.
But then I think about what Iʻm creating, how I create it, and why I create it, and all that doubt sort of goes away. See, I believe that as human beings we all have a connection to each other and that we have opportunity to help impact each others lives positively. I feel that each and every one of us has purpose and was given a gift. 
I think its our mission in life to discover that gift and then to use it for good. I donʻt make the rules here, but I think it takes a while to find that gift (and hopefully I do find it) but as I lean more into what makes me happy, I think that my gift is story telling. My style of story telling is a bit different than the usual "once upon a time" kind of thing. I find that I create using words (hand lettering) and imagery (illustration). As for my subject of inspiration, as a Native Hawaiian born and raised on the island of Oahu and having attended the Kamehameha Schools, I feel a connection to my Hawaiian heritage more than all of the other ethnicities that make me, me - so local/Hawaiian culture is my focus.
As for how this all goes back to ʻŌlelo Hawaiʻi, I started Kakou Collective because I felt like what was currently out and accessible to planners like me, was not an extension of me, where Iʻm from, or who I want to be. In regards to planning, thats kind of weird being that essentially we are planning our days, weeks, months, years, life out to reach some kind of end goal right? Some kind of a better version of ourselves? So how can I be a better Hawaiian without having mea Hawaii? And how can we have mea Hawaii without incorporating ʻŌlelo Hawaiʻi?
Fast forward to starting Kakou Collective, I made it our mission to create things like ʻŌlelo Hawaiʻi planner stickers. Not just for people like me (non-native speakers with the hope of incorporating more ʻŌlelo Hawaiʻi into daily life), but for native speakers that are tired of planning in a space that they donʻt identify with (because planners are primarily made either blank or in English). Why not create something where all ʻŌlelo Hawaiʻi lovers could feel good about when they open their planners and something that could make the planning process more efficient but still incorporating what we identify with?
I ka ʻōlelo no ke ola, i ka ʻōlelo no ka make.
Life is in speech; death is in speech.
Word can heal; words can destroy.
If we are afraid of utilizing our own language, those who tried to decimate our culture will ultimately win. Colonizers take away what matters most, the foundational pieces of culture. That tiny voice thats in our minds - the seed of doubt that says to you "youʻre not Hawaiian enough," that is the voice of the colonizer that his been entwined into our stories, inflicting trauma throughout the generations of our history. 
For me, its time to snuff that little voice out. If one little tiny planner sticker incorporating ʻŌlelo Hawaiʻi can make it into someones planner, that is one more piece of our native language that gets to live and be incorporated into a Hawaiian home. This is my contribution to the process of healing, and I hope that one day it makes an impact and helps to normalize ʻŌlelo Hawaiʻi.
It will be a battle to fight that little voice. Because I am older and have incorporated English into my life so much, the battle will be harder. But for future generations, the more we do, the less they need to fight. This is why we give to entities like ʻAha Pūnana Leo. Not because I feel guilt in profiting off of product. But because these Kumu are doing great work in perpetuating not only our native language, but in the indigenous mindset and way of life.
E ola mau ka ʻŌlelo Hawaiʻi
Long live Hawaiian Language