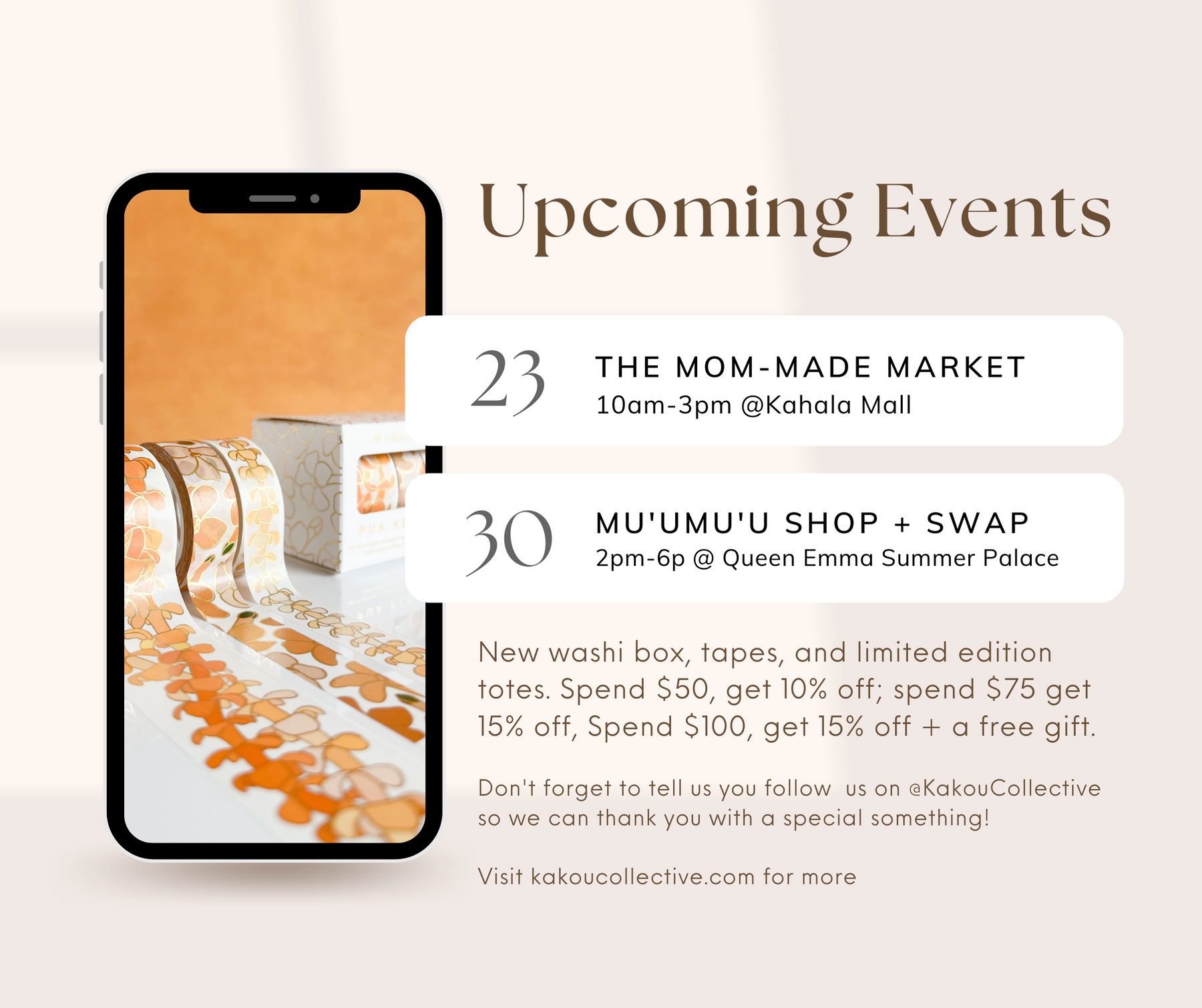 Upcoming Events - April 2022
Events in Hawaii are always an interesting thing. They range in location and who will be there based on organizer and vendors. For us, we love pop-ups but with a stationery shop we have to really pick and choose where we will be (paper is so not light). We do our best to choose events (and hopefully get chosen) that are in alignment with our values, and that you will love coming to. We think you'll love this months events because they are unique and so supportive of local culture.
As an added bonus, we never really have discounts online, but we'd like to try something special for this months in-person events where if you spend, you save:
Spend $50, get 10% off
Spend $75, get 15% off
Spend $100, get 15% off + a free gift
Don't forget to let us know you follow us on Instagram so we can give you a little makana for supporting us.
*discounts cannot be combined. total is baed on pre-taxed amount.

Saturday, April 23 from 10am - 3pm
Come and support mom-made businesses at Kahala Mall from 10am - 3pm. We are so excited about this event because I absolutely love supporting local momtreprenuers! Its so amazing to me how they provide for their families and create for their community. We absolutely had to participate in this event because the shop owners were so thoughtfully chosen. Almost all of the businesses support wonderful causes and do such a wonderful job of supporting local culture through different product.
Mu'umu'u Shop + Swap
Saturday, April 30 from 2pm - 6pm
I absolutely couldn't say no to this event. As a mu'umu'u collector this is an absolutely need to go to (especially after I missed the January one because we were under the weather). Plus, mu'umu'u culture is such an integral part of surface pattern design (something I love to do!).
Dress up in your favorite mu'umu'u and come and shop with us at Queen Emma's Summer Palace. Don't have one yet, or perhaps are you looking to expand your collection (because I am!) Perhaps you have a mu'u in your closet that you'd love to swap? Bring it on over to swap it out for a mu'u of equal value with our friends from the Mu'umu'u Library. Destash Hawai'i has been a wonderful place for me to start up my collection and absolutely can't wait to see what special pieces they bring!
Bring one, swap one: We're going to hop in on the swapping fun and we'll have a swap table. Bring any stationery items that you'd love to swap or help find a happy creative home. This is a fun way to "let go" of any stationery items because you know they'll go to a home where someone appreciates them. You also may find something new and exciting that someone else brings! For every item you bring, you can swap it out for one. Items don't have to be brand new, but must be in useable condition (if you wouldn't want to take it home, its probably not a good idea to bring it for someone else to take home - lets follow the golden rule, here). Items like washi tape, stationery, journaling tools, notebooks, journals, and sticker sheets are welcome.